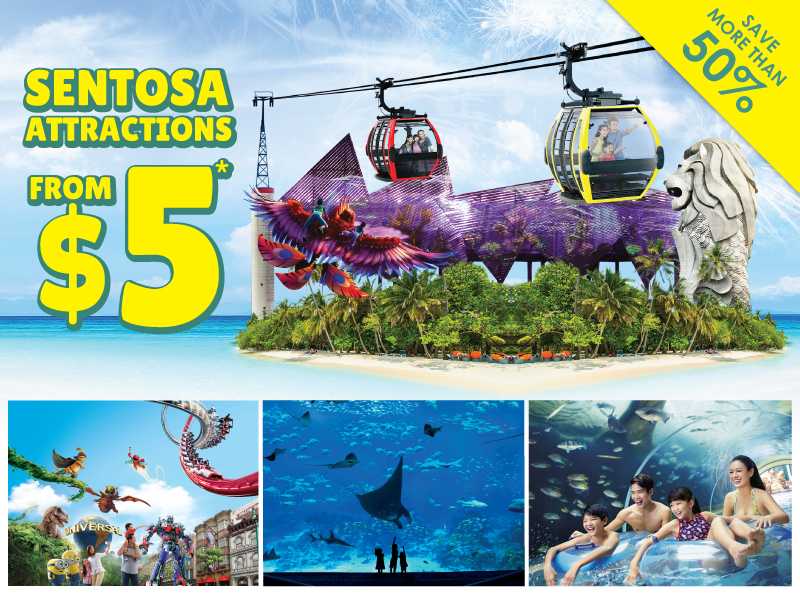 Visit One Faber Group & Sentosa Attractions for exclusive offers starting from $
5
*! Visitors can enjoy
52% savings
off selected tickets to Singapore Cable Car, Wings of Time and Sentosa Merlion as well as special prices and bundle packages at Resorts World Sentosa attractions including Adventure Cove Waterpark, S.E.A Aquarium and Universal Studios Singapore®.
Tickets sold have an extended validity date (till 31 December 2017) so you can buy for your loved ones too! Attractive prizes to be won with any purchase!
https://www.onefabergroup.com/
Visit One Faber Group & Sentosa Attractions (Booth No. CE8) at level 3!
One Faber Group promotions (exclusive to visitors at NATAS Holiday 2017)
Attractions (Ticket prices only)
Singapore Cable Car
Promotion

Singapore Cable Car Sky Pass (Round Trip) @ 52% discount

Adult ($16, Usual Price $33)
Child ($11, Usual Price $22)
Extended Validity

31 Dec 2017
Sentosa Merlion
Sentosa Merlion Standard Ticket @ 52% discount

Adult ($6, Usual Price $12)
Child ($5, Usual Price $9)

31 Dec 2017
Wings of Time
Wings of Time @ 52% discount

Standard ticket ($9, Usual Price $18)
Premium ticket ($12, Usual Price $23)

31 Dec 2017
Adventure Cove Waterpark at Resorts World Sentosa
Adventure Cove Waterpark at Resorts World Sentosa (one-day ticket)

Adult ($29, Usual Price $38)
Child ($22, Usual Price $30)



31 Dec 2017
S.E.A Aquarium at Resorts World Sentosa
S.E.A Aquarium at Resorts World Sentosa (one-day ticket)

Adult ($27, Usual Price $34)
Child ($17, Usual Price $24)


31 Dec 2017



Universal Studios Singapore® at Resorts World Sentosa
Universal Studios Singapore® at Resorts World Sentosa (one-day ticket)

Adult ($68, Usual Price $76)
Child ($50, Usual Price $56)


31 Dec 2017

Attractions (Bundle packages with unlimited cable car rides)
Fly & Explore


Singapore Cable Car (unlimited one-day pass) bundled with S.E.A Aquarium at Resorts World Sentosa (One-day ticket)

Promotion


Adult ($48, Usual Price $77)
Child ($38, Usual Price $56)

Mastercard members enjoy additional 5% off
Extended Validity

31 Dec 2017
Fly & Splash

Singapore Cable Car (unlimited one-day pass) bundled with Adventure Cove Waterpark at Resorts World Sentosa (One-day ticket)



Adult ($48, Usual Price $81)
Child ($38, Usual Price $62)


Mastercard card members enjoy additional 5% off

31 Dec 2017
Happy 2 Package

Singapore Cable Car (unlimited rides) bundled with a selection of 2 attractions*

*Guests can choose 2 out of 17 attractions available in this package


Adult ($50, Usual Price $93)
Child ($40, Usual Price $76)

Maybank card members enjoy additional 5% off


31 Dec 2017
Faber Licence
Faber Licence

Unlimited cable car rides and island admission via Sentosa Boardwalk, Sentosa Express & Sentosa Gantry. Dining, shopping and attraction privileges at Faber Peak Singapore and Sentosa

Promotion

$5.20 off membership fees

Individual membership ($33.80, Usual Price $39)

Family membership ($129.80, Usual Price $135)