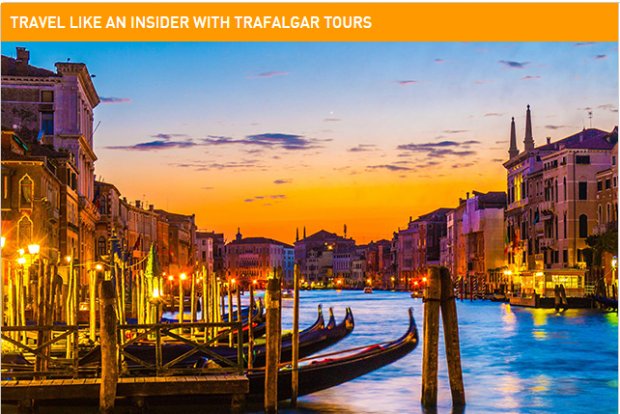 SAVE up to 12% when you book with MasterCard by 12 Feb 2015
Available until: February 12 2015
Trafalgar is your key to travelling like an insider. You'll go beyond the expected, meet the locals and share authentic experiences on a holiday you'll never forget.
Trafalgar takes you deep inside the destination and provide an exclusive perspective on the people and places you encounter. We take you off the beaten path, provide local expertise and deliver truly unique holiday experiences. Choose to explore a region in depth, enjoy special family moments or experience the sights at a more relaxed pace. Trafalgar has a range of trip styles to suit you.
Starting 1 November 2014, Trafalgar will be launching their new tour itineraries to Europe & Britain. MasterCard cardholders enjoy a discount of up to 12% if they book by 12 Feb 2015.
Save up to 12% per person on your Europe & Britain 2015 guided holidays with any MasterCard card! Book and pay in full by 12 February 2015 to enjoy this offer. Enjoy these exclusive deals when you book from 1 November – 22 December 2014 (Singapore residents only).
First 100 guests receive a free 24-inch luggage (per room basis)
Enjoy a S$50 airline rebate per person
Seniors above 50 years old (born on/ before 1965) enjoy savings of S$50
For bookings and reservations, contact your preferred Travel Agents.
For more information on our 200+ itineraries worldwide, call us at 6922 5950 / 6295 6383 or email
[email protected]
TERMS & CONDITIONS
Valid with other applicable brochure discounts.
Discount is valid on Europe and Britain 2015 and CostSaver 2015 Brochure only. Not valid for pre/post nights and transfers.
Discounts of up to 12% cannot be combined with Trafalgar's Early Payment Discount.
12% Discount is subject to Early Payment discount availability on trips booked at the time of reservation.
For full terms and conditions, please see www.trafalgar.com/gsa
Other Terms and conditions applies.