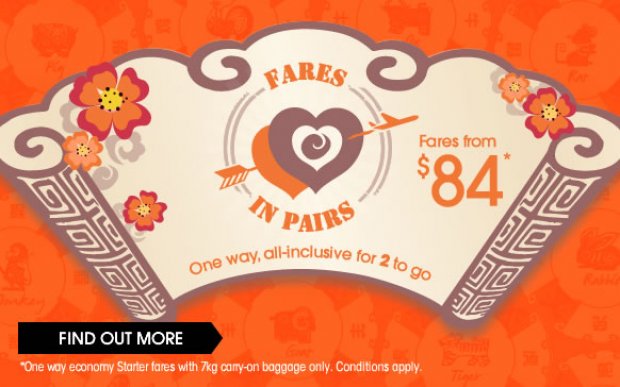 Book a trip for two and save with Fares in Pairs!
The Fares in Pairs offer is only applicable when booked in pairs and can be accessed through the booking links below or the "Fares in Pairs" banner at jetstar.com. Checked baggage and extras can be purchased, additional fees apply per passenger.
Flights to many of our destinations are on sale!
So hurry! Find a friend, a family member, or just anyone and fly in pair with Jetstar!
Sale starts 10am today and ends 2 February 2015 (6pm), unless sold out prior. Sale may be extended. Bookings are subject to sale fares availability and are for travel in selected periods in 2015. Sale fares come with carry-on baggage only. Selected routes only. A minimum of 2 passengers must travel together on the same itinerary for the fare to apply. You must include all travelling passengers in the same booking for travel on the same flight.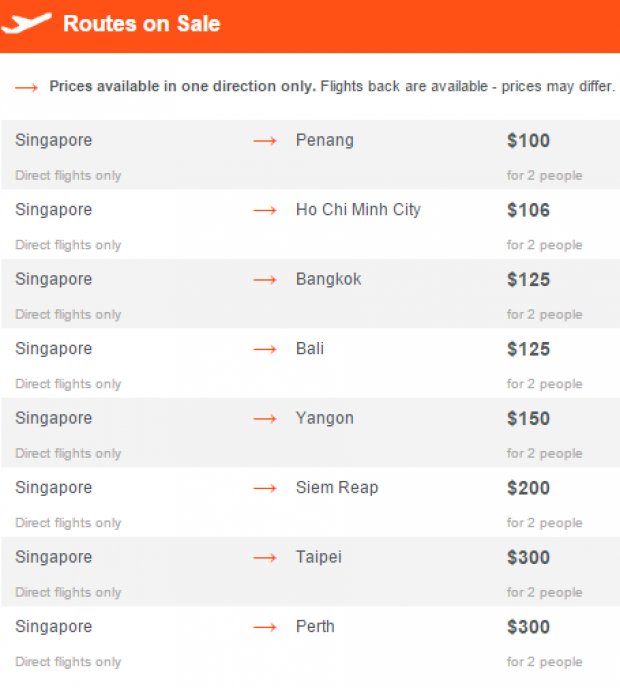 Things you need to know
*Prices quoted are in Singapore dollars. Fares quoted are for one way and include taxes. A booking and service fee of $3 - $10 per passenger, per flight will apply. Availability is limited (not available on all flights, over public holidays, school holidays and weekends).
*Economy Starter fares come with 7kg carry-on baggage only. Carry-on baggage limits, including size restrictions, will be strictly applied. Passengers with more than the applicable carry-on baggage allowance will need to check in baggage, and charges will apply. More details on carry-on baggage.
Fares may not be available on all flights and days.
Singapore - Penang: 24 Feb - 1 Apr, 14 Apr - 28 May, 5 Jul - 22 Oct 2015
Singapore - Ho Chi Minh City: 3 Mar - 28 May, 21 Jul - 22 Oct 2015
Singapore - Bangkok: 5 - 28 May, 5 Jul - 22 Oct 2015
Singapore - Bali: 24 Feb - 1 Apr, 7 Apr - 28 May, 21 Jul - 22 Oct 2015
Singapore - Yangon: 21 Jul - 22 Oct 2015
Singapore - Siem Reap: 24 Feb - 1 Apr, 5 - 28 May, 21 Jul - 22 Oct 2015
Singapore - Taipei: 24 Feb - 1 Apr, 7 Apr - 28 May, 18 Aug - 24 Sep, 13 - 22 Oct 2015
Singapore - Perth: 29 Apr - 1 Jul, 21 Jul - 23 Sep, 13 - 22 Oct 2015