There's nothing like Australia.
With Emirates and Qantas, you can now enjoy double daily flights from Singapore to Brisbane, Melbourne and Sydney to start your journey.
For those who have a thirst for more adventure, our partnership with Qantas means you can now fly to a further 50 domestic destinations across Australia including Alice Springs, Cairns and Hobart.
Fly on our integrated network and experience seamless connections, state-of-the-art aircraft, dedicated lounges, and Emirates Skywards earning and rewards on both Emirates and Qantas flights.
Book now and discover why there's nothing like Australia and Emirates.

Fly with Emirates and Qantas to Australia and take advantage of our special fares.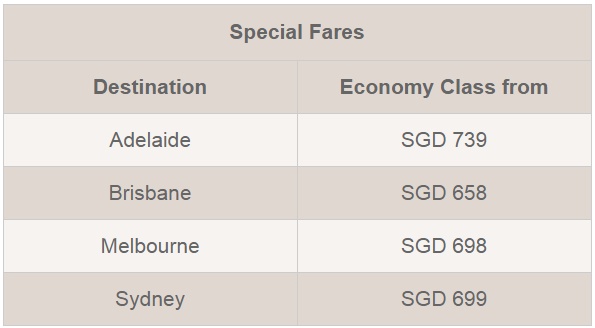 Weekend and peak season surcharges apply for travel on selected dates.
Valid for sale until 8 February 2015.
Booking must be made at least seven days before departure date.
Flight application: fare is valid on either Emirates or Qantas operated flights. Flights to selected destinations are only operated by Qantas.
Minimum stay: three days.
Maximum stay: one year.
Reservation changes before/after after departure: permitted at a charge of SGD 100.
Cancellation after ticket is issued is not permitted and is non-refundable.
Infant (0-2 years without a seat) pay 10% of applicable adult fare.
All fares are inclusive of all taxes and fuel surcharges. Fares may differ slightly due to currency fluctuations and/or government tax regulations as per journey booked.
For detailed Terms & Conditions per destination, please check the Fare conditions in an online quote.