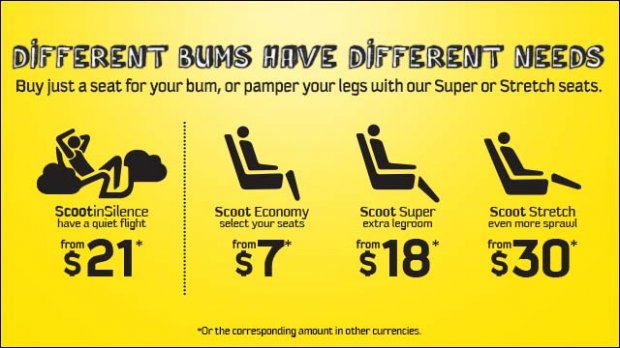 Just plane awesome.
So you wanna fly with us. So you wanna experience flying like you've never flown before, and travel the world with us. But how are you gonna get there?
Welcome to Economy class, with a difference.
What's awesome?
Great value travel, tailored the way you want. Buy just a seat, or add extras from tasty meals to great entertainment, extra-large seats, extra-heavy baggage and more. The choice is yours!
Bundle me up!
And to make it even easier, we've bundled the most common options together, so you can choose with one click and enjoy a discount compared to selecting the extras individually: Fly, FlyBag & FlyBagEat. All served with a dash of Scootitude. Click on the links below to find out more.
Standard Economy Class seats (Blue)
Between 18.9 and 19.7 inches wide, we're proud to say that our Economy class seats out-size almost all other carriers' seats, full-service carriers included. Clad in royal blue fabric, our Economy seats recline to an impressive 107 degrees and feature a 31" seat pitch.
For those of you who still want more, we offer two other seat options to stretch and get even more comfortable on board: introducing our Super and S-t-r-e-t-c-h Seats.
Super Seats (Yellow)
With up to 35" of legroom, these seats will make your onboard experience that much sweeter, all for a small fee. Want an insider tip? The Super seats in rows 61 to 64 of our Scoot Boeing 777 aircraft are bigger, with more leg and elbow room. These seats come in pairs, which give you more privacy and which give us all the more reason to refer to them as our 'love seats'.
S-t-r-e-t-c-h Seats (Yellow)
Whether you're tall or you're small, you deserve to sprawl. Our S-t-r-e-t-c-h seats have the most legroom of all, with at least 35" of legroom and no seat in front of you. Look out for these seats on board – they're the ones in yellow at the bulkheads and by the doors. And they are all yours, for a small fee.
ScootinSilence (Yellow)
Want to Scoot in peace and quiet? Now you can, in our ScootinSilence cabin (rows 21 to 25) just behind the ScootBiz cabin! Besides the exclusivity and privacy that you'll enjoy in the ScootinSilence cabin as under 12's will be someplace else, you'll also get extra legroom, as each seat is either Super or S-T-R-E-T-C-H, offering at least 35" pitch – 4 more inches than the standard economy seat!