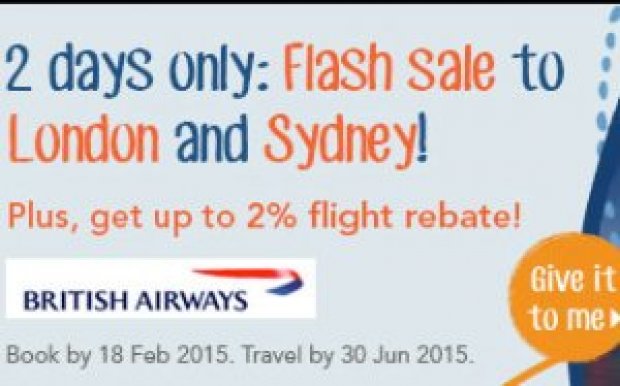 Don't miss these great flight deals on British Airways. All featured British Airways airfares include all taxes and fuel surcharges. Book your British Airways flight securely online with instant confirmation, and know that the ZUJI 24/7 customer support is always a click or a call away.
Here are today's current flight offers on British Airways (departing from Singapore):
Flash sale to London and Sydney!
For 2 days only: Plan your holiday to majestic London or gorgeous Sydney this Spring! But here's the catch: you never know when the flash sale will appear. It could be in the next hour, 10 mins, or even the next few seconds! So check back on ZUJI to grab that elusive fare. Once you have found the "Flash Sale fare", grab the opportunity and book for your holiday.
Book by 18 Feb 15. Travel by 30 Jun 15.
What's more, enjoy 2% rebate for flight bookings by 30 September 2015. Find out how.