Special Offer: Enchanting Europe

European enchantments await you on your next Crystal cruise!
From St. Petersburg to Santorini, the cruise line voted World's Best more than any other in history explores Europe with more overnight stays, more maiden calls and more 7-day voyages than ever before. Find your passion and follow your dreams...to the vineyards of Bordeaux and the museums of Florence. Embark on an adventure to the North Cape or play along beaches of the Costa del Sol. Regardless of where your wanderlust takes you—the Mediterranean, the Baltic, Western Europe, and Great Britain—the all-inclusive Crystal Experience® showcases the spectacular wonders and intimate secrets of these treasured destinations with exceptional style and luxury.
Be spontaneous and join Crystal Serenity on an 7-day Europe escape from Rome to Venice or a longer 12-day sojourn from Marseille to Lisbon during Europe's cooler climes later in the year. Our 2015 Europe Collection is among the most extensive we've ever offered with unique voyages from all through December. Looking ahead, our 2016 and 2017 Europe Collections promise equally immersive discovery on extended seasons, too. Quite simply, if you can dream it, Crystal can take you there aboard the two highest-rated ships in the world, Crystal Symphony and Crystal Serenity.
2015 Highlights:
More maiden
calls in Bodø, Norway; Burgas, Bulgaria; Chania/Souda, Greece; Rijeka, Croatia; Sanary-sur-Mer, France; Narvik and Øye/Hjorundfjord, Norway; Helgoland, Germany; and Solovetsky Island, Russia.
More overnight stays
, allowing for the luxury of time ashore: Amsterdam, Barcelona, Dublin, Dubrovnik, Edinburgh, Hamburg, Honfluer, Istanbul, Leknes, Lisbon, Marseille, Monte Carlo, Reykjavik, St-Malo, Stockholm, Valletta, and Venice. PLUS, double overnights (3 days to explore!) in Bordeaux and St. Petersburg.
Well-traveled hosts
aboard to dance and socialize with on board on two Ballroom Dance themed Trans-Atlantic sailings.
2016 Highlights:
New overnights
in Antwerp, Ibiza, Berlin (Hamburg), and Haifa.
Complimentary 3-night Berlin land package
exploring this fascinating city on two new Northern Europe cruises to/from Berlin.
More double overnights
in Amsterdam, Barcelona, Istanbul, Lisbon, London, Stockholm, St. Petersburg, and Venice.
Even more maiden calls
in Arendal, Norway; Bandol, France; Crotone, Italy, Karlskrona, Sweden; Kirkwall, UK; Klaksvík, Faroe Islands; Portree, Isle of Skye, UK; and Sibenik, Croatia.
Returns to less-visited ports
such as Argostolion, Kefalonia Island, Greece; Gdansk, Poland; La Rochelle/La Pallice, France; Mariehamn, Finland; Tarragona, Spain; and Sarande, Albania.
2017 Highlights
More Mediterranean cruises
than ever before – 18 departures from April through October, each including at least one overnight stay for evening exploring ashore.
An impressive 19 maiden calls
including: Antibes, Port Vendres and Sète, France; Brindisi, Italy; Djúpivogur and Isafjordur, Iceland; Hammerfest, Norway; Huelva (for Seville), Spain; Faroe Islands; Portsmouth, England; Praia da Vitoria/Azores, Portugal; Santa Cruz de la Palma, Canary Islands, Spain; Santa Margherita, Italy; Skiathos, Greece; and Syracusa, Sicily.
New 2-night inclusive overland program in Paris
, The City of Light, appealing to the romantic in everyone on two summer sailings in August.
New cruises
that begin or end in Portsmouth, England, and feature overnights in Dublin, Zeebrugges, Copenhagen, Warnemunde, St. Petersburg and Stockholm.
New itineraries
designed around key events including Midsummer Eve in Stockholm (Sweden's most important holiday after Christmas); and the Military Tattoo in Edinburgh.
New Holy Land
voyage from Rome to Dubai, with return visits to Dubai and Egypt after several years, and a call in Muscat, Oman on the Sultan's birthday.
Book your European cruise now and enjoy the unmatched value of an award-winning Crystal vacation:
Limited-time Book Now Cruise-Only Fares from $1,895 per person when you book by December 30, 2015
Complimentary select fine wines, champagne and premium spirits.
Complimentary gratuities for all dining, bar, housekeeping and Penthouse butler staff.
Complimentary evening of specialty restaurant dining at least once in Silk Road or the Sushi Bar celebrating the cuisine of Nobu Matsuhisa, and at least once in Prego. Additional reservations or visits available for a modest fee*.
Complimentary enrichment via the innovative Creative Learning Institute® and the Computer [email protected]® with classes in diverse topics such as world affairs, art, wine appreciation, digital photography and iPad filmmaking; free Wi-Fi/interner access.**
Complimentary fitness programs with classes in yoga, mat Pilates, Spinning®, and so much more!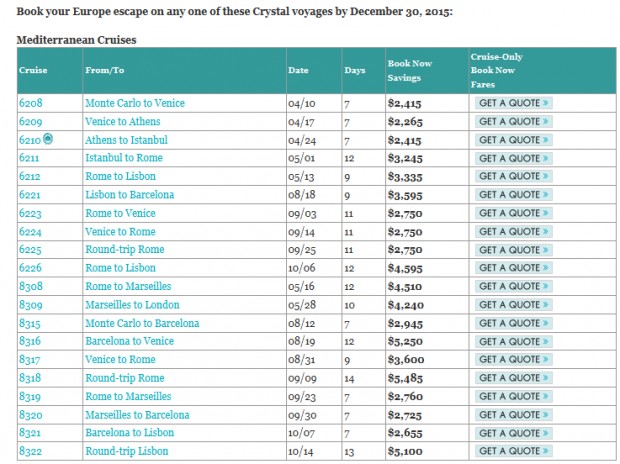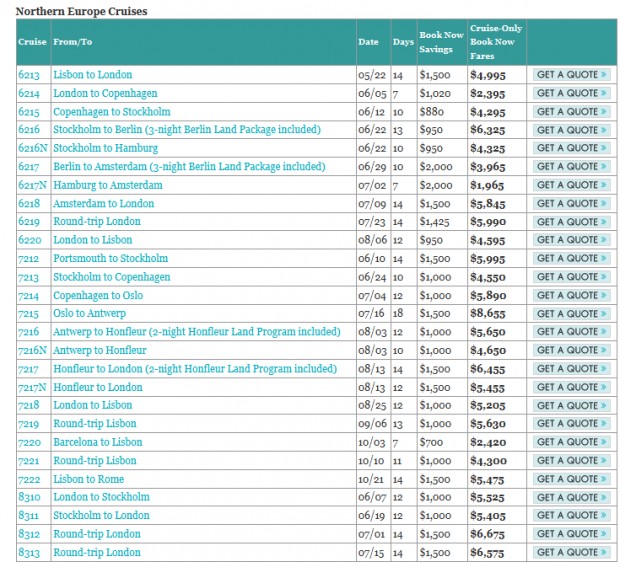 Terms & Conditions
Cruise-Only Fares and Book Now Savings apply to new bookings only as of 9/1/2015, and must be booked by 12/30/2015.
Cruise-Only Fares are per person in U.S. dollars, double occupancy and do not include cruise port, security and handling charges of $280-$845.
Cruise-Only Fares listed are for category C3 on Crystal Serenity; category E2 on Crystal Symphony and includes all promotional savings. Cruise Only Fare of $1,895 per person applies to voyage 5329 in category C3 on Crystal Serenity and include all promotional savings.
Personal Select Air programs are available from Crystal Cruises' designated gateway cities in the U.S. and Canada, and include all government fees and taxes. Note: Early Full Payment savings do not apply to Personal Select Air. Contact your Travel Agent or a Crystal Air Travel Concierge for more details.
Solo Traveler Fares are available upon request. *Crystal Cruises offers each guest the opportunity to dine at least once on a complimentary basis in Prego and at least once in Silk Road or the Sushi Ba (Sushi Bar is not available for pre-reservation via PCPC and is available on a first come first serve basis).
Additional reservations including "walk-in" visits are subject to a $30 per person fee, per dining experience, subject to availability.**Free Wi-fi/Internet access: Deluxe Stateroom (from category E2 - P1) and Penthouse with Verandah (PH) guests will receive 60 minutes per person, per day; Penthouse Suite with Verandah (PS) guests will receive 90 minutes per person, per day; Crystal Penthouse (CP) guests will receive unlimited free Wi-fi/internet for the duration of their cruise.
Restrictions apply. All offers may not be combinable with other promotions, apply to first two full-fare guests in stateroom or suite, are capacity-controlled, subject to availability, and may be withdrawn or changed at any time without notice.