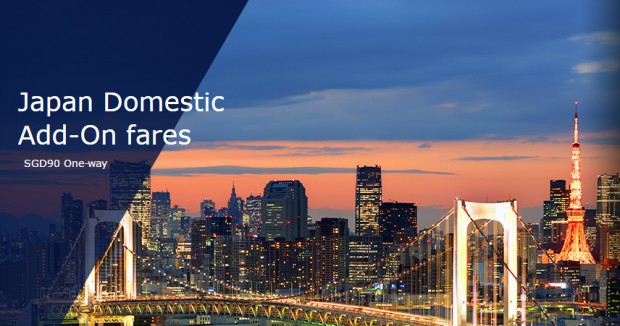 Round Trip: SGD 180 / One Way: SGD 90
Fly ANA from Singapore to Tokyo and enjoy great value with ANA's Japan Domestic Add-On fares!
(To Osaka/Nagoya/Fukuoka: Fares are same as Tokyo)
Applicable for customers who purchase ANA's Carrier Fares from Singapore to Japan only.
Japan domestic add-on tickets/sectors must be purchased and issued together with International ticket
Conditions are strictly governed by ticketing conditions of ANA's international ticket purchased.
Consumption tax apply for the domestic sectors immediately connecting to/from international flights provided that the connection time between domestic flight and the international flight is more than 24 hours.Please contact ANA reservation center for details.
Additional airport fee may apply.