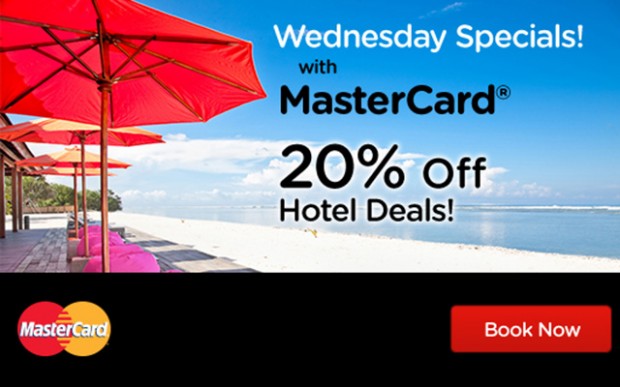 About AirAsiaGo.com
AirAsiaGo is one of the fastest growing online travel portals in Asia, offering travellers an extensive selection of hotels, activities and travel services to meet every budget and activities of every kind at competitive rates. With over 510,000 hotel partners worldwide and AirAsia's complete flight inventory made available on the site, travellers can book everything they need for a holiday - rooms to meet every budget, activities of every kind and travel services to complement.
Promotion for MasterCard Cardholders
From now to 31 December 2015, MasterCard cardholders enjoy:
20% off hotel deals at selected destinations
Additional 8% discount with discount code 'mastercard8'
Selected destinations include:
December
- Malaysia – Penang, Kuala Lumpur, Kota Kinabalu, Langkawi, Malacca
- Thailand – Bangkok, Koh Samui, Phuket, Krabi, Chiang Mai, Pattaya, Hatyai, Hua Hin, Chiang Rai
- Indonesia – Bali, Jakarta, Lombok, Bandung, Medan, Yogyakarta
- China – Guangzhou, Shenzhen, Beijing, Hangzhou, Chongqing, Chengdu, Hong Kong
- Philippines – Kalibo (Boracay), Clark, Cebu, Manila
- Japan – Sapporo, Tokyo, Osaka, Nagoya
- Korea – Seoul, Busan, Jeju
- Singapore – Singapore
- India/Sri Lanka/Maldives – Goa, New Delhi, Mumbai, Chennai, Kolkata, Colombo, Maldives
Terms and Conditions:

Campaign T&Cs
Booking is to be made at the AirAsiaGo booking page created for MasterCard promo on every Wednesday.
Promo starts from 00:01am (GMT+8) and end 11:59pm (GMT+8) on every Wednesday.
Promo ONLY applicable to stand-alone hotel booking.
A guaranteed 20% OFF hotel deals to appear on the hotel search results page. A minimal of 5 – 10 hotel deals for every promo destinations.
MasterCard Debit Card/Credit Card users are entitled for an additional 8% discount coupon for selected hotel booking. Coupon code to be enter at AirAsiaGo checkout/payment page.
Promo rate (hotel) is based on first come first serve and subject to availability
Hotel rate is based on per room per night before tax price.
Promo are subjected to availability and change may be discontinued without notice. Additional restrictions, minimum stays and blackout dates may apply.
Promo ONLY valid for booking during the applicable booking and travel at selected destinations
Voucher T&Cs
The voucher code may be used to book the hotel. All bookings MUST be made online via www.airasiago.com. The voucher code cannot be redeemed against flight only, car only or package. Voucher issued is STRICTLY for standalone hotel booking ONLY.
The voucher code is off the price of the travel reservation before the application of any taxes, applicable fees or additional costs.
The voucher code on applicable on selected. For hotel exclusion list, please refer to: http://www.airasiago.com.my/p/corporate/coupon-exclude-hotels
Voucher is ONLY applicable for per hotel per room booking. No restriction on number of redemption.
The voucher code cannot be redeemed against taxes, supplier fees, cancellation or change penalties, administrative fees or other miscellaneous charges, which are the sole responsibility of the customer.
The voucher code cannot be used for any booking previously made and will be deemed fully redeemed once a qualify booking has been made.
The voucher code is non-refundable. Improper use of the voucher code by you including but not limited to publication or selling of the voucher code is prohibited and may constitute fraud.
Usual booking terms and conditions apply and all bookings are subject to availability.
AirAsiaGo reserves the right to vary the voucher code conditions of use or to withdraw the voucher code at any time.
AirAsiaGo reserves the right to vary these conditions of use or to withdraw the discount code or voucher at any time without prior notice.
If we become aware, or have reason to suspect (in our reasonable opinion), that you have: (a) made booking on the Website using the coupon with a view to re-selling any accommodation; or (b) otherwise engaged in conduct which impacts on the fairness, integrity or proper conduct of this offer, we may, in our absolute discretion, cancel all bookings made by you using the coupon.