KrisFlyer's Redemption Promotion
From 03 - 14 February 2016, enjoy a 30% discount when you redeem your KrisFlyer miles online, for an Economy Saver award ticket on selected flights, for travel from 15 February – 26 May 2016. With a choice of popular destinations on offer, like Bali, Darwin, Tokyo, San Francisco and more, it's never too early to plan your next adventure.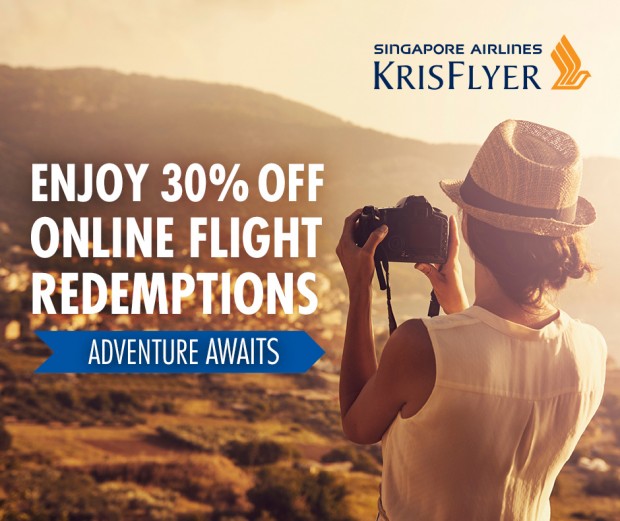 Travel Destinations
The number of KrisFlyer miles shown below is per person per one-way travel, after incorporating the 30% discount. Taxes, fuel surcharges and fees are applicable in addition to the required redemption mileage and paid separately by the passenger in the applicable currency.
From

Flight number

KrisFlyer miles

South-East Asia

SINGAPORE TO KUALA LUMPUR
KUALA LUMPUR TO SINGAPORE

SQ106/SQ116/SQ118
SQ107/SQ117/SQ119

5250
5250

SINGAPORE TO KUCHING
KUCHING TO SINGAPORE

MI372/MI378
MI371/MI377

5250
5250

SINGAPORE TO LANGKAWI
LANGKAWI TO SINGAPORE

MI362/MI368
MI361/MI369

5250
5250

SINGAPORE TO PENANG
PENANG TO SINGAPORE

MI348/MI350/MI352/MI354
MI345/MI347/MI349/MI353

5250
5250

SINGAPORE TO KOTA KINABALU
KOTA KINABALU TO SINGAPORE

MI392/MI396
MI391/MI395

5250
5250

SINGAPORE TO JAKARTA
JAKARTA TO SINGAPORE

SQ950/SQ958/SQ960/SQ962/SQ964/SQ966/SQ968
SQ951/SQ953/SQ955/SQ957/SQ959/SQ961/SQ967/SQ963

5250
5250

SINGAPORE TO BALI
BALI TO SINGAPORE

SQ938/SQ948/MI176
SQ939/SQ943/SQ949/MI175

5250
5250

SINGAPORE TO SURABAYA
SURABAYA TO SINGAPORE

SQ930
SQ931

5250
5250

SINGAPORE TO PEKANBARU
PEKANBARU TO SINGAPORE

MI252/MI254
MI251/MI253

5250
5250

SINGAPORE TO PALEMBANG
PALEMBANG TO SINGAPORE

MI162/MI168
MI161/MI167

5250
5250

SINGAPORE TO BALIKPAPAN
BALIKPAPAN TO SINGAPORE

MI134/MI138
MI133/MI137

5250
5250

SINGAPORE TO BANDUNG
BANDUNG TO SINGAPORE

MI192/MI196
MI191/MI195

5250
5250

SINGAPORE TO MEDAN
MEDAN TO SINGAPORE

MI234/MI238
MI233/MI237

5250
5250

SINGAPORE TO LOMBOK
LOMBOK TO SINGAPORE

MI124/MI128
MI123/MI127

5250
5250

SINGAPORE TO MANADO
MANADO TO SINGAPORE

MI274
MI273

5250
5250

SINGAPORE TO MAKASSAR
MAKASSAR TO SINGAPORE

MI142/MI144
MI141/MI143

5250
5250

SINGAPORE TO SEMARANG
SEMARANG TO SINGAPORE

MI102/MI104
MI101/MI103

5250
5250

SINGAPORE TO YOGYAKARTA
YOGYAKARTA TO SINGAPORE

MI152/MI154
MI151/MI153

5250
5250

SINGAPORE TO BANGKOK
BANGKOK TO SINGAPORE

SQ974/SQ976/SQ978/SQ982
SQ973/SQ975/SQ981/SQ983

8750
8750

SINGAPORE TO CHIANGMAI
CHIANGMAI TO SINGAPORE

MI702/MI706
MI701/MI703/MI705

8750
8750

SINGAPORE TO PHUKET
PHUKET TO SINGAPORE

MI750/MI754/MI756/MI758
MI749/MI751/MI753/MI755/MI757

8750
8750

SINGAPORE TO KOH SAMUI
KOH SAMUI TO SINGAPORE

MI774
MI771

8750
8750

SINGAPORE TO HO CHI MINH
HO CHI MINH TO SINGAPORE

SQ186/SQ172/SQ184
SQ173/SQ183/SQ185

8750
8750

SINGAPORE TO HANOI
HANOI TO SINGAPORE

SQ176/MI654
SQ175/MI653

8750
8750

SINGAPORE TO DANANG
DANANG TO SINGAPORE

MI632/MI634/MI636/MI638
MI631/MI633/MI635/MI637

8750
8750

SINGAPORE TO YANGON
YANGON TO SINGAPORE

SQ998
SQ997

8750
8750

SINGAPORE TO MANDALAY
MANDALAY TO SINGAPORE

MI522/MI533
MI522/MI533

8750
8750

SINGAPORE TO SIEM REAP
SIEM REAP TO SINGAPORE

MI612/MI636/MI616/MI618/MI620/MI633
MI611/MI617/MI619/MI633/MI636

8750
8750

SINGAPORE TO MANILA
MANILA TO SINGAPORE

SQ912/SQ916/SQ918
SQ915/SQ919/SQ921

8750
8750

SINGAPORE TO CEBU
CEBU TO SINGAPORE

MI577/MI599
MI577/MI599

8750
8750

SINGAPORE TO KALIBO
KALIBO TO SINGAPORE

MI577/MI599
MI577/MI599

8750
8750

North Asia

SINGAPORE TO HONG KONG
HONG KONG TO SINGAPORE

SQ856/SQ860/SQ868/SQ2
SQ857/SQ863/SQ865/SQ871

10500
10500

SINGAPORE TO TAIPEI
TAIPEI TO SINGAPORE

SQ876/SQ878
SQ877

10500
10500

SINGAPORE TO GUANGZHOU
GUANGZHOU TO SINGAPORE

SQ850/SQ852
SQ851/SQ853

10500
10500

SINGAPORE TO CHANGSHA
CHANGSHA TO SINGAPORE

MI952/MI954
MI951/MI955

10500
10500

SINGAPORE TO CHENGDU
CHENGDU TO SINGAPORE

MI936/MI938
MI935/MI937

10500
10500

SINGAPORE TO WUHAN
WUHAN TO SINGAPORE

MI986/MI988
MI985/MI987

10500
10500

SINGAPORE TO XIAMEN
XIAMEN TO SINGAPORE

MI922
MI921

10500
10500

SINGAPORE TO SHENZHEN
SHENZHEN TO SINGAPORE

MI962/MI966
MI961/MI965

10500
10500

SINGAPORE TO CHONGQING
CHONGQING TO SINGAPORE

MI972/MI976
MI971/MI975

10500
10500

SINGAPORE TO KUNMING
KUNMING TO SINGAPORE

MI912/MI916
MI913/MI915

10500
10500

SINGAPORE TO BEIJING
BEIJING TO SINGAPORE

SQ802/SQ806
SQ801/SQ807

14000
14000

SINGAPORE TO SHANGHAI
SHANGHAI TO SINGAPORE

SQ828/SQ832/SQ836
SQ825/SQ833/SQ835

14000
14000

SINGAPORE TO TOKYO - HANEDA
TOKYO - HANEDA TO SINGAPORE

SQ632/SQ634
SQ631/SQ633

15750
15750

SINGAPORE TO SEOUL
SEOUL TO SINGAPORE

SQ600/SQ602
SQ603/SQ607/SQ609/SQ15

15750
15750

SINGAPORE TO OSAKA
OSAKA TO SINGAPORE

SQ616
SQ619

15750
15750

SINGAPORE TO FUKUOKA
FUKUOKA TO SINGAPORE

SQ656
SQ655

15750
15750

West Asia and Africa

SINGAPORE TO MUMBAI
MUMBAI TO SINGAPORE

SQ422/SQ424/SQ426
SQ421/SQ423/SQ425

12950
12950

SINGAPORE TO DELHI
DELHI TO SINGAPORE

SQ402/SQ406
SQ401/SQ403

12950
12950

SINGAPORE TO CHENNAI
CHENNAI TO SINGAPORE

SQ528/MI436
SQ529/MI435

12950
12950

SINGAPORE TO BANGALORE
BANGALORE TO SINGAPORE

MI424
MI423

12950
12950

SINGAPORE TO KOLKATA
KOLKATA TO SINGAPORE

MI488
MI487

12950
12950

SINGAPORE TO VISAKHAPATMAN
VISAKHAPATMAN TO SINGAPORE

MI442
MI441

12950
12950

SINGAPORE TO HYDERABAD
HYDERABAD TO SINGAPORE

MI472/MI474
MI471/MI473

12950
12950

SINGAPORE TO KOCHI
KOCHI TO SINGAPORE

MI464/MI468
MI463/MI467

12950
12950

SINGAPORE TO COIMBATORE
COIMBATORE TO SINGAPORE

MI456
MI455

12950
12950

SINGAPORE TO TRIVANDRUM
TRIVANDRUM TO SINGAPORE

MI492
MI491

12950
12950

SINGAPORE TO KATHMANDU
KATHMANDU TO SINGAPORE

MI412
MI411

12950
12950

SINGAPORE TO MALDIVES
MALDIVES TO SINGAPORE

SQ452
SQ461

12950
12950

SINGAPORE TO COLOMBO
COLOMBO TO SINGAPORE

SQ468/SQ466
SQ469/SQ467

12950
12950

SINGAPORE TO JOHANNESBURG
JOHANNESBURG TO SINGAPORE

SQ478
SQ479

17500
17500

SINGAPORE TO ISTANBUL
ISTANBUL TO SINGAPORE

SQ392
SQ391

17500
17500

South West Pacific

SINGAPORE TO PERTH
PERTH TO SINGAPORE

SQ213/SQ223/SQ225/SQ215
SQ214/SQ216/SQ224/SQ226

14000
14000

SINGAPORE TO DARWIN
DARWIN TO SINGAPORE

MI801/MI803/MI822
MI802/MI804/MI822

14000
14000

SINGAPORE TO BRISBANE
BRISBANE TO SINGAPORE

SQ245/SQ255
SQ236/SQ256

17500
17500

SINGAPORE TO MELBOURNE
MELBOURNE TO SINGAPORE

SQ207/SQ217
SQ208/SQ228

17500
17500

SINGAPORE TO SYDNEY
SYDNEY TO SINGAPORE

SQ231/SQ241/SQ251
SQ212/SQ242/SQ252

17500
17500

SINGAPORE TO ADELAIDE
ADELAIDE TO SINGAPORE

SQ279
SQ278

17500
17500

Europe

SINGAPORE TO AMSTERDAM
AMSTERDAM TO SINGAPORE

SQ324
SQ323

24500
24500

SINGAPORE TO BARCELONA
BARCELONA TO SINGAPORE

SQ68
SQ67

24500
24500

SINGAPORE TO PARIS
PARIS TO SINGAPORE

SQ336
SQ335

24500
24500

SINGAPORE TO RUSSIA
RUSSIA TO SINGAPORE

SQ62
SQ61

24500
24500

SINGAPORE TO MILAN
MILAN TO SINGAPORE

SQ368/SQ378
SQ367/SQ377

24500
24500

SINGAPORE TO LONDON
LONDON TO SINGAPORE

SQ308/SQ318
SQ305/SQ317

24500
24500

SINGAPORE TO ZURICH
ZURICH TO SINGAPORE

SQ346
SQ345

24500
24500

Americas

SINGAPORE TO LOS ANGELES
LOS ANGELES TO SINGAPORE

SQ12
SQ11

24500
24500

SINGAPORE TO SAN FRANSISCO
SAN FRANSISCO TO SINGAPORE

SQ2/SQ16
SQ1/SQ15

24500
24500

SINGAPORE TO HOUSTON
HOUSTON TO SINGAPORE

SQ62
SQ61

26250
26250