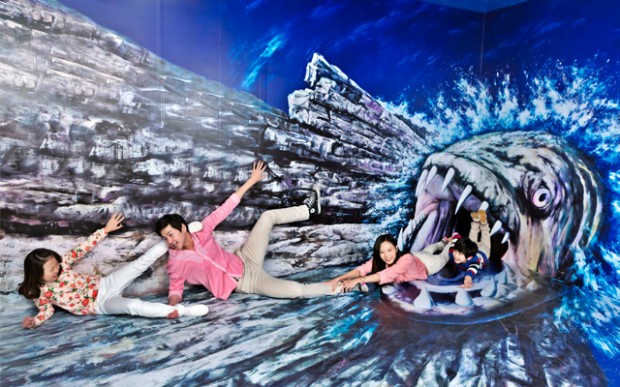 Buy one ticket to Trick Eye and Ice Museum with a MasterCard the second ticket is only half price.

Trick Eye Museum opened its doors in 2010 at Hongdae, center of Seoul's urban art and culture. The name of the museum comes from a French art technique called "Trompe-l'oeil" which literally means "trick of the eye". This technique creates optical illusion of a 3D image, when in fact, the image is two dimensional. Trick Eye Museum visitors have absolute freedom to explore the museum with their eyes, hands and cameras. Trick Eye has two more local branches in Busan and Jeju and several in overseas – in Singapore, China and Hong Kong. Being a part of Hallyu (Korean Wave) and representing Korean 3D art, Trick Eye became one of Seoul's most popular attractions. The total number of visitors reached over 700 000 in 2014, and Trick Eye was ranked No 1 most visited attraction among Seoul museums and amusement sites on Trip Advisor. Purchase Trick Eye Museum ticket and you can also visit Ice Museum free of charge! The Winter Wonderland is waiting for you!
▼ TERMS & CONDITIONS
Cannot be used in conjunction with other discounts or promotional offers.
Benefits can only be used in Hongdae Trick Eye Museum
Benefits apply only when you make a payment with a MasterCard
Promotion Period: 2015.10.01-2016.03.31
AM 9:00 – PM 9:00 (open all year around) 02 3144 6300
Click here to know more of this deal!