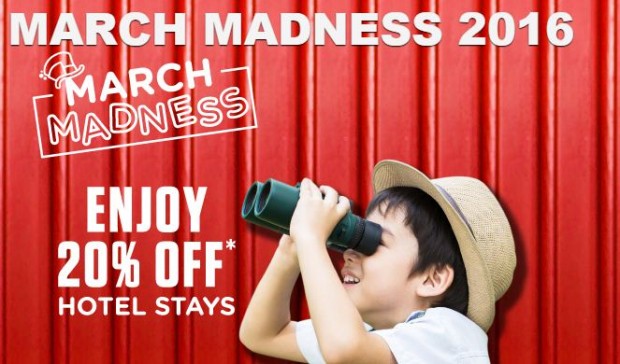 MARCH TO YOUR NEXT HOTEL STAY THIS SCHOOL HOLIDAY!

BOOKING PERIOD 7th - 13th March 2016 | STAY PERIOD 10th March - 31st December 2016
Participating Hotels:
Downtown KL
Taiping
Bandung, Indonesia
Kota Damansara
Kota Bahru City Centre
Yogyakarta, Indonesia
DPulze Cyberjaya
Danga Bay, Johor
Ahmedabad, India
Downtown Penang
1 Borneo, Kota Kinabalu

There's More! A FREE RIDE with UBER worth RM20*
Just book at Downtown KL, Downtown Penang or Danga Bay, Johor in the month of March to enjoy this privilege. Your exclusive free ride promo code will be included in your booking confirmation email for the selected hotels. Look out for it!
* Free rides are only applicable to new UBER users.

Terms & conditions:

1. The discount is strictly applicable for bookings from 7 - 13 March 2016 ("Promotional Period"), for stay period from 10 March - 31 December 2016.
2. This promotion is only valid for Double Rooms.
3. The discount EXCLUDES OPTIONAL ADD-ONS (Optional Add-Ons include in-room TV access, air-conditioning, towels, toiletries, and WiFi which can be purchased at an additional cost), except where otherwise noted.
4. The promotional rate is inclusive of GST and Service Charge.
5. Rooms do not include in-room telephone sets.
6. We are not required to provide a refund if you change your mind on the purchase made at the promotional rate. Please see our Terms and Conditions on Cancellation Policy.
7. Limited rooms are allocated during promotional rate, and are subject to such room's availability. Certain dates may have more promotional room allocations than the other dates during the Promotional Period.
8. Please see our full Terms and Conditions in respect of the booking.