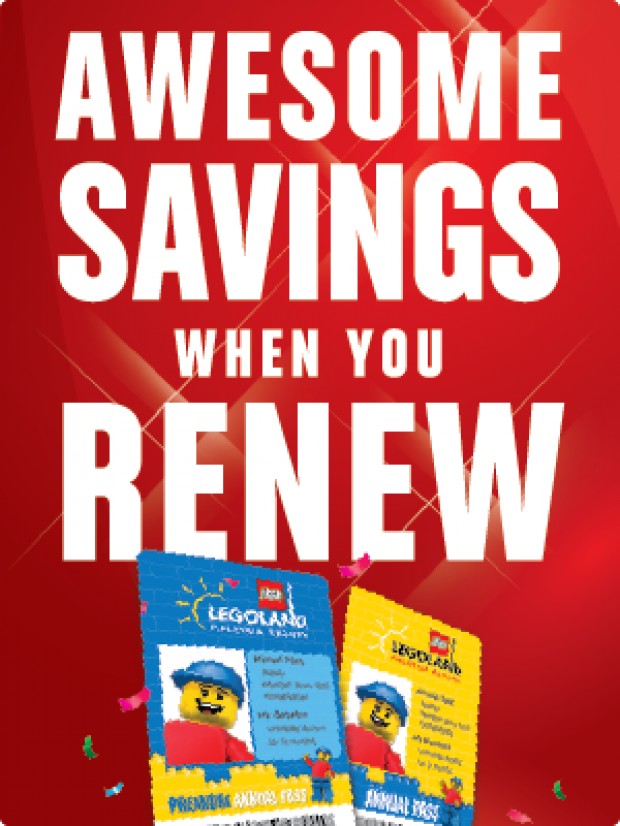 Hello Annual Pass holders, Renew your Annual Pass now and save up to RM208
It is surely something that you do not want to miss out. The offer is extended to all Annual Pass that expired in 2013, 2014, 2015 and 2016. If you still have your expired Annual Pass, please bring it to the ticketing counter to get it re-activated.
Normal Price
Renew Price
Premium Annual Pass

RM450 (Adult)

RM450 (Child)

RM242 (Adult)

RM242 (Child)

Standard Annual Pass

RM320 (Adult)

RM245 (Child)

RM192 (Adult)

RM153 (Child)
Terms & Conditions:
Promotion period: 8 March - 31 March 2016
Offer applicable to RENEWALS of Annual Pass only.
Valid for 12 months from date of renewal. Ideally, bring your physical Annual Pass card to LEGOLAND Malaysia ticketing window.
LEGOLAND Malaysia Resort reserves the rights to change terms & conditions without prior notice.
This promotion is subject to change without prior notice.
Not valid with other ongoing Annual Pass promos or discount vouchers
Visit Legoland Malaysia to know more about Annual Pass benefits.