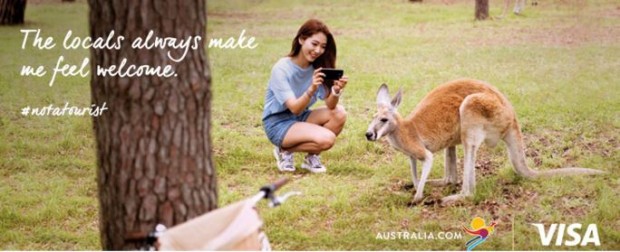 Visa champions the traveller who goes off the beaten track, takes the path less travelled, and seeks out local experiences that can't come from a tour guide. Because the more you explore, the more you embody the spirit of the traveller, the more you are 'not a tourist'.
Enter the #notatourist contest now for a chance to win a pair of return flights to Sydney, Australia on Singapore Airlines!
Contest Details
To participate in the contest, simply snap and upload photos of your #notatourist travel experiences on Instagram before 8th May 2016.
One winner will be selected by Visa to receive a pair of Singapore Airlines Economy class tickets to Sydney!
Step 1:
Snap a photo of your #notatourist travel experience
Step 2:
Follow "@VisaAsiaPacific" on Instagram
Step 3:
Upload the photo on Instagram, and:
- Mention @VisaAsiaPacific
- Include hashtags #notatourist and #flySQ
- Tell us where the photo was taken and tag your location

Eligible Participants
Holders of Singapore-issued Visa cards
Contest Period
21 March – 8 May 2016

Terms & Conditions:
The #notatourist campaign organized by Visa Worldwide Pte. Limited ("Visa Singapore" or "the Promoter") from 21 March 2016 to 8 May 2016 is open to Singapore residents, excluding the Ineligible Persons (as hereinafter defined). For the purpose of these Terms and Conditions, "Ineligible Persons" means
(a) Employees (and the immediate families) of the Promoter and agencies associated with the #notatourist campaign; and
(b) Employees of participating banks who had participated in the #notatourist campaign run by the Promoter during the period from 21 March 2016 to 8 May 2016
Participation in the #notatourist campaign is deemed acceptance of these Terms and Conditions.
Participants must: (a) be at least 18 years of age; and (b) have an Instagram Account.
Participants are required to create (or have created prior to participating) an original and creative photograph, video, story or other work that characterises a #notatourist travel experience ("Entry"). Further information about the #notatourist campaign will be available on www.visa.com.sg.
To submit an Entry, participants must:
(a) login to their Instagram account which must be set to a "Public" visibility setting;
(b) become a 'Follower' of "@VisaAsiaPacific" ("Visa Asia Pacific Instagram Account") (if he or she is not an existing Follower of the Visa Asia Pacific Instagram account); and
(c) upload their Entry, geotag their location, include the hashtags "#notatourist" and "#flySQ" in the caption field, and mention "@VisaAsiaPacific".
Each Entry submitted by 8 May 2016 11:59PM (Singapore time) will stand a chance to win a prize of a pair of return economy class tickets on Singapore Airlines to Sydney, Australia ("Prize"). Entries submitted after the closing date and time will not be considered.
The #notatourist campaign is a game of skill. Chance plays no part in determining the winner of the Prize. The Promoter will review the eligible Entries and shortlist 10 Entries based on originality and creative merit. A participant whose entry has been shortlisted will be notified via an Instagram comment on their shortlisted Entry. The shortlisted Entries will be featured in the #notatourist campaign on the Visa Singapore Facebook and/or the Visa Asia Pacific Instagram Account.
The Promoter will select from the shortlisted Entries a winning Entry which best characterizes the #notatourist travel experience. The winning Entry will be announced publicly through the Visa Singapore Facebook and the Visa Asia Pacific Instagram Account.
The participant who submitted the winning Entry ("Winner") has 7 days from the announcement of the result to contact the Promoter with his or her contact details in order to claim the Prize. If the Winner has not contacted the Promoter by the end of the 7 days, the Prize shall be forfeited without notice. The Promoter reserves the right, but shall not be obliged, to select an alternative winning Entry from the remaining shortlisted Entries.
All decisions of the Promoter are final and no correspondence will be entertained.
After the Winner has contacted the Promoter as required, the Promoter reserves the right to request the Winner to present proof of identity and age and/or eligibility (if required) in order for him or her to claim the Prize. The Promoter will then issue a letter to the Winner which contains instructions on how he or she may redeem the Prize from the travel agency, as well as enclose a travel voucher issued by the travel agency for redemption of the tickets awarded as the Prize ("Tickets"). The Prize must be redeemed from the travel agency within 6 months of the date of the Promoter's letter and such redemption period will not be extended by the Promoter. In order to redeem the Prize, the Winner must identify himself or herself to staff of the travel agency and produce the Promoter's letter, the original travel voucher issued by the travel agency, and valid passport. No replacement of the original letter or the travel voucher will be made by the Promoter in the event of loss or damage and the Winner will forfeit the Tickets in the event of such loss or damage. The Prize, including any unused value or part thereof, is non-exchangeable, non-transferrable and non-redeemable for cash, credit, or any other items in part or in whole. The Promoter reserves the right to change or substitute the Prize without prior notice. A Prize which is not claimed from the Promoter or redeemed from the travel agency shall be disposed by the Promoter as it deems fit.
Reservation of Tickets must be made in advance with the travel agency and is subject to seat availability at the time of reservation. Early reservation of Tickets is recommended to avoid disappointment.
The Winner must travel on the trip to Sydney, Australia in order to utilize the Prize and will be allowed to bring 1 companion who is at least 18 years of age at the date of departure for the trip. The Winner and his or her companion must be deemed fit to travel at the date of departure, and must travel together on the entire itinerary. The Promoter's decision on whether the Winner and/or his or her companion is deemed fit to travel shall be final and shall not be open to challenge. The validity of travel documentation and/or application and costs for a tourist visa and any other travel approvals to Australia are the sole responsibility of the Winner and his or her companion.
The Tickets must be accepted as awarded and are subject to a maximum stay of 12 months. The Tickets cannot be rerouted to other destinations; open-dated tickets, open jaw travel and en-route stopovers are not permitted. The Tickets are eligible for frequent flyer mileage accrual and cannot be used in conjunction with any other upgrade awards. By redeeming the tickets awarded as the Prize, the Winner and his or her companion are deemed to have accepted all the applicable terms and conditions prescribed to the Tickets from time to time by the travel agency and the airline. Any change to the flight date and/or time after the Tickets have been booked is subject to the payment of fees of the travel agency at the prevailing rates per transaction and any other applicable fees including those of the airline.
For the avoidance of doubt, except where expressly provided herein, the Winner and his or her companion shall bear all costs and expenses (including incidental charges, applicable taxes, insurance, visas, out-of-pocket expenses) in relation to the redemption of the Prize and/or the use of the Tickets (or any component(s) thereof).
The Promoter and the travel agency shall not be responsible or liable for any other consequence including but not limited to loss of life, injury to person, and/or damage to property arising from or in connection with the redemption of the Prize and/or use of the Tickets. The Promoter shall not be responsible or liable in any manner whatsoever for any deficiency or inadequacy of any product or service included in the Prize that is provided by a third party or for any damage suffered by the Winner and/or his or her companion which may arise from or be in any way connected with the act or omission of any third party.
To the fullest extent permitted by law, there are no, and the Promoter expressly excludes and disclaims any representations, warranties or endorsements, express or implied, written or oral, including but not limited to, any warranty of satisfactory quality, merchantability or fitness for a particular purpose in respect of the Prize.
Each participant agrees that he or she is fully responsible for all Entries and materials which he or she submits for the #notatourist campaign including but not limited to comments, recordings and images ("Content"). The Promoter shall not be liable in any way for such Content to the full extent permitted by law. The Promoter may remove or decline to publish any Content without notice for any reason whatsoever. Each participant warrants and represents that:
(a) the Content is his or her original creative work and that he or she is the sole owner of all intellectual property rights in the Content or has otherwise procured the necessary consents from the relevant owner(s) under sub-clause (e) below, and that he or she has not licensed or assigned any such intellectual property rights to any other person;
(b) the Content is not unlawful or fraudulent, and the use of such Content would not cause the Promoter to be in breach of any intellectual property, privacy, publicity or other rights;
(c) the Content is not defamatory, obscene, derogatory, pornographic, sexually inappropriate, violent, abusive, harassing, threatening, objectionable with respect to race, religion, origin or gender, not suitable for children, or otherwise unsuitable for publication;
(d) the Content does not contain any data, file or link that contains or redirects to a virus, Trojan horse, worm or other harmful component;
(e) prior consent has been obtained from any person or from the owner(s) of any property that appears in the Content; and
(f) they consent to any use of the Content which may otherwise infringe the Content creator's moral rights pursuant to the Copyright Act and warrant that they have the full authority to grant these rights.
Without limiting any other terms herein, the participant agrees to indemnify the Promoter and its employees and agents for: (a) any breach of the above representations and warranties; and (b) any liabilities, damages, losses, costs (including legal costs on a full indemnity basis) and expenses arising from any claims, demands, actions, proceedings, judgment or execution which the Promoter, its employees or agents may suffer or incur from or in connection to the participant's participation in the #notatourist campaign.
Each participant grants the Promoter, its affiliates and sub-licensees a non-exclusive, royalty-free, perpetual, worldwide, irrevocable, and sub-licensable right and licence to use, reproduce, modify, adapt, publish and display their Entry (which shall include Photographs) for any purpose, including but not limited to future promotional, marketing or publicity purposes, in any media, without compensation, restriction on use, attribution or liability.
Each participant consents to the Promoter using their name, likeness, image and/or voice in the event their Entries are selected to be featured in the #notatourist campaign on the Promoter's Facebook and the Visa Asia Pacific Instagram Account (including photograph, film and/or recording of the same) in any media for an unlimited period without remuneration for the purpose of promoting this promotion (including any outcome), and promoting any products manufactured, distributed and/or supplied by the Promoter.
If the #notatourist campaign is interfered with in any way or is not capable of being conducted as reasonably anticipated due to any reason beyond the reasonable control of the Promoter, including but not limited to technical difficulties, unauthorised intervention or fraud, the Promoter reserves the right, in its sole discretion, to the fullest extent permitted by law: (a) to remove any Content; or (b) to modify, suspend, terminate or cancel the #notatourist campaign, as appropriate.
Any cost associated with accessing an Instagram account is the participant's responsibility and is dependent on the Internet service provider used. The Promoter shall not be held responsible for any costs incurred by the participants for participating in the #notatourist campaign.
Except for any liability that cannot by law be excluded the Promoter (including its respective officers, employees and agents) excludes all liability (including negligence), for any personal injury; or any loss or damage (including loss of opportunity); whether direct, indirect, special or consequential, arising in any way out of: (a) the #notatourist campaign; (b) any technical difficulties or equipment malfunction (whether or not under the Promoter's control); or (c) any theft, unauthorized access or third party interference (whether or not under the Promoter's control).
Entry and continued participation in the #notatourist campaign is dependent on participants following and acting in accordance with the Instagram Terms of Use which can be viewed at http://instagram.com/legal/terms/.
The #notatourist campaign is in no way sponsored, endorsed or administered by, or associated with, Instagram. Participants understand that they are providing their information to the Promoter and not to Instagram. The information a participant provides will only be used for the purposes outlined in these Terms and Conditions. Any questions, comments or complaints about the #notatourist campaign must be directed to the Promoter and not to Instagram. Instagram will not be liable for any loss or damage or personal injury which is suffered or sustained by entrant participant, as a result of participating in the #notatourist campaign (including taking/use of the prize), except for any liability which cannot be excluded by law.
The Promoter collects personal information ("PI") in order to run the #notatourist campaign and may, for this purpose, disclose such PI to their agency, BBDO Singapore. Participation in the #notatourist campaign is conditional on providing this PI. The Promoter will also use and handle PI as set out in its Privacy Policy, which can be viewed at http://www.visa.com.sg/ap/sg/aboutvisa/privacy.html
The Privacy Policy also contains information about how participants may opt out, access, update or correct their PI, how participants may complain about a breach of the Singapore privacy laws or any other applicable law and how those complaints will be dealt with.
The laws of Singapore apply to this campaign to the exclusion of any other law. Participants submit to the exclusive jurisdiction of the courts of Singapore.