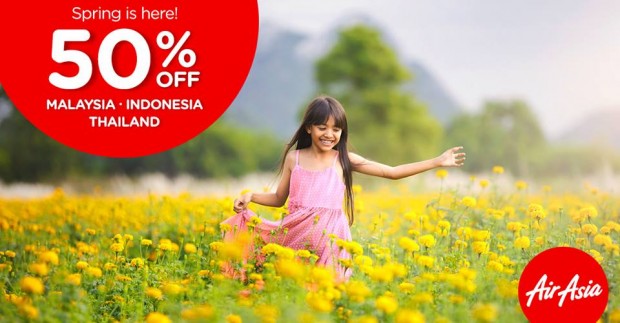 Booking Period: 4 April 2016 - 10 April 2016 | Travel Period: 5 April 2016 - 31 August 2016

Book your flight now to destinations in Malaysia, Indonesia and Thailand and enjoy this limited offer from AirAsia!

Travel Notes
- Advanced booking required.
- Fares are not available during peak period.
- Fares are available on selected fare classes only.
- 50% off is applicable to direct flights departing and arriving in Singapore only.
- 50% off is applicable to base fare only.
How you can enjoy this promotion
Simply follow these simple steps:
Pick your preferred destination.
Select the dates stated within the promotion travel period (except peak period).
Choose your preferred flights.
Enjoy 50% off your base fare! You're done!