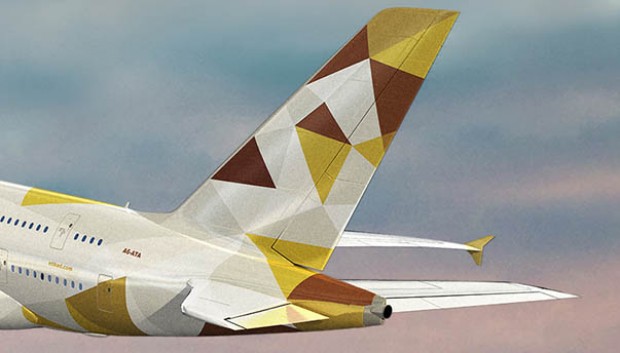 Special offer for American Express® Cardmembers
Travel to Abu Dhabi and beyond with the 2015 World's Leading Airline*. Etihad Airways are offering American Express Cardmembers a discount of up to 10% on selected flights in First Class, Business Class and Economy Class, excluding taxes. Book and travel by 31 July 2016 and pay with your American Express Card to receive the discount.

Etihad Airways continues to reimagine flying. Our pioneering spirit and traditions of hospitality, drawn from our home in Abu Dhabi, means that we are committed to making sure that every time guests fly with us, their journey is truly remarkable.
Experience fine cuisine and on-demand entertainment in Economy Class, stretch out on your luxurious flat bed in Business Class or relax in your very own private suite in First Class.
Enter the first 4 digits of your American Express Card in the below box to log in to the booking website.
* World Travel Awards winner 2015

Terms and Conditions:
Offer is only valid on One-way & Return trip fares. The discount would not apply on Multicity destinations/Stopovers.
American Express Cardmembers can receive up to 10% off when booking a flight with Etihad Airways.
Cardmembers must book and travel by 31 July 2016.
Payment must be made with an American Express Card and bookings must be made onetihad.com/amexoffer.
Flights and fare types are subject to availability at the time of booking.
The discount only applies to flights that are sold by Etihad Airways and operated by Etihad Airways or our codeshare partners.
Flights eligible for the discount are clearly signalled by a yellow star next to them. Please ensure only flights eligible for the discount are selected when booking.
The discount only applies to the base fare and not on taxes or additional charges.
The discount is valid on all Economy Saver, Economy Value, Economy Freedom, Business Saver, Business Value, Business Freedom and First Freedom, excluding child or infant fares.
From time to time, Economy Class fares categorised as Breaking Deals may be available for sale. - Discount will not apply to these Breaking Deal fares, but they will be bookable through etihad.com/amexoffer.
Changes and cancellations are subject to charges and fees as per published fare rules.
All changes must be made with Etihad Airways via etihad.com or Etihad Airways call centres.
Etihad Airways are the promoter and solely responsible for the fulfilment of the offer.