TRAFALGAR TOURS' ICELAND APRIL PROMOTION!

Trafalgar's guided holiday is arguably one of the world's favourite providers of great value holidays to various holiday destinations and hotspots. Founded in 1947, Trafalgar hires only the best tour directors in the industry to ensure that when you book a guided tour with us, you will enjoy the perfect holiday! Trafalgar's guided holidays takes you into the heart of your chosen holidaying country, providing an exclusive perspective on the people, places and history that you will be visiting and experiencing.

And now with Jetabout's partnership with Trafalgar guided tours, you too can book your very own Trafalgar guided tour to complement your holiday itinerary! Some guided tour destinations by Trafalgar include France (eg. The Treasures of France tour where tourists will visit the historic landing beach of Normandy), England (for instance the English countryside garden tours) and the United States of America (eg. Wonders and Flavours of The Golden State, a California themed tour)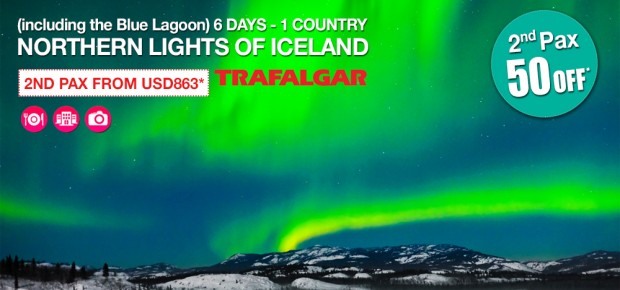 6 DAYS NORTHERN LIGHTS OF ICELAND @50% OFF 2ND PAX!
This stunning volcanic island will captivate and inspire you, from the stylish Nordic culture of trendy Reykjavik to the awe inspiring natural beauty of its steaming geysers, majestic glaciers, the famous Blue Lagoon and nature's light show – the ethereal Aurora Borealis



DAY 1
DAY 2
DAY 3
Arrive Reykjavik
(2 Nights)
Reykjavik
Sightseeing
Reykjavik South
Shore Adventure
- Hella (2 nights)
Welcome to Reykjavik!
The capital of Iceland is yours to start exploring after you check in to your hotel.

Tonight meet your Travel Director and fellow travellers for a Welcome Reception.
(WR) Hotel: Grand Reykjavi





Explore Reykjavik on a sightseeing tour this morning.

See the city's major attractions includingParliament House, theOld Harbour, theNational Museum,Laugardalur swimming pool and the city's main landmark, theHallgrlmskirkja church standing on top of a hill in the city centre.

This evening why not sample some Icelandic delicacies with your fellow travellers before going on the search for the Northern Lights?

Take a journey throughIceland's stunning south coast, a region of breathtaking scenery and legendary stories.
Today, encounter a wonderful variety of natural landscapes, including the spectacular waterfalls of Seljalandsfoss andSkogafoss.
Visit the SkogarFolk Museum where you will gain a Cultural Insight into Icelandic heritage. View the black sand beach in Vik before arriving at your hotel where you will dine tonight. If conditions permit, take a walk with your Travel Director in search of the Northern Lights.

(BB, D) Hotel: Stracta

DAY 4
DAY 5
DAY 6
Golden Circle Excursion
Hella - Blue Lagoon
- Reykjanesbrer
Depart Iceland
This morning, gain a Cultural Insight into the way in which Iceland harnesses geothermal energy with an included visit to the state­of-the-artHellisheidi Power Plant, located on an active volcanic ridge.

Then experience another Cultural Insight when you visit and bathe in the world famous Blue Lagoon complete with a delicious cocktail. (Please remember to pack your swimwear).
Tonight enjoy a Be My Guest Farewell Dinner at Viking World, which will be open exclusively for Trafalgar.

(BB, BG) Hotel: Park Inn by Radisson Airport
Your first stop this morning is at the historically significantThingvellir National Park. Here you will see how the continental drift between the North American andEurasian tectonic plates has altered the landscape by creating massive cracks or faults in the Earth's surface.
Enjoy great photo opportunities in the world-famous hot spring area of Geysir. Wait a few minutes for Strokkurgeyser to erupt, sending a spectacular column of water and steam high into the air. Close by is the majestic Gullfoss, the 'Golden Waterfall'.

In the afternoon visit the Fridheimar greenhouse for an insight into Icelandic horticulture as well as a taste of their famous tomato soup made from fresh, locally grown produce.
Say goodbye to your companions and Travel Director after an unforgettable trip.

(BB)

For more details, please call 6734 1818 or
Send your enquiry to us!
Itinerary