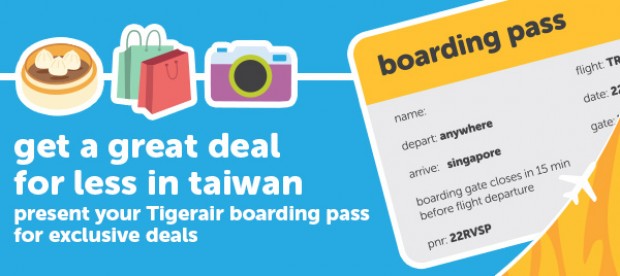 Simply present your TigerAir boarding pass at our partner merchants within 7 days of travel
Buy 1 get 1 free regular admission ticket (NT$799) and redeem two ticket pouches
Conditions apply
Window on China Theme Park
Promo valid till 31 Dec 2017
•
No. 891, Kao-Yuan Rd., Kao-Yuan Village,
Longtan Township, Taoyuan County, 325 Taiwan
•
General enquiry hotline: (886) 3 4717211
•
Operating Hours: 9:00am - 4:30pm on weekdays and 9:30am - 5:00pm on weekends/public holidays
•
Visit www.woc.com.tw for more details
Visit TigerAir to see all offers!
Tigerair boarding passes must be presented together with valid passports or identity documents within 7 days of travel into Taiwan. Each boarding pass is entitled to 2 discounted tickets unless stated otherwise. Not to be used in conjunction with any other promotions. Discounts are applicable on prevailing admission rates, which are subject to change without prior notice. Offers are not exchangeable for cash or other products. No claims will be entertained for any lost, torn, defaced or expired tickets. Offers are only applicable for outbound flights from Singapore.
Window on China Theme Park:
Each boarding pass is eligible for discount for maximum 2 tickets. Discount is not applicable for Taiwan citizens. Passengers would have to present their passports and Tigerair boarding passes at Window on China Theme Park's counter to enjoy the discount (the 7-day validity period for boarding passes does not apply for this promotion; boarding passes are valid during the passenger's entire stay).