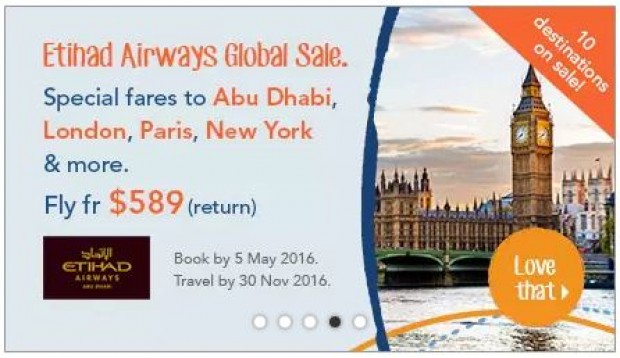 Don't miss these great flight deals on Etihad Airways. All featured Etihad Airways airfares include all taxes and fuel surcharges. Book your Etihad Airways flight securely online with instant confirmation, and know that the ZUJI 24/7 customer support is always a click or a call away.
Here are today's current flight offers on Etihad Airways (departing from Singapore):
Pack your bags for a holiday of a lifetime!
Ever feel envious of friends that are always on a holiday? Well, now it's your turn to make them green with envy! We have 10 top holiday destinations at irresistible prices on a top airline just for you. What's more, receive flight rebates and other discounts and freebies when you book on ZUJI! Find out more here.
Hurry, before seats get sold out!
Book by 5 May 2016, travel by 30 Nov 2016.
Prices displayed are for Economy Return
Etihad Airways - the National Airline of the United Arab Emirates is based in the UAE's capital Abu Dhabi. At the World Travel Awards in 2011, Etihad became the first airline in the world to win the prestigious 'World's Leading Airline' award for the third straight year and the 'World's Leading Airline First Class' award for the fourth year running.
Most recently, Etihad won all three First Class titles at the Skytrax World Airline Awards 2012. The 'hat-trick' of awards picked up were 'Best First Class', 'Best First Class Seats' and 'Best First Class Catering'.
Etihad currently flies 3 times weekly from Singapore to Brisbane, and 3 times weekly to Abu Dhabi and beyond to more than 75 destinations in Europe, Middle East, Africa, Asia, Australia and North America.
With effect from 2nd February 2013, Etihad will increase its current thrice weekly flights both North-bound and South-bound, to daily services.
Visit Zuji.com.sg for more information about this offer.