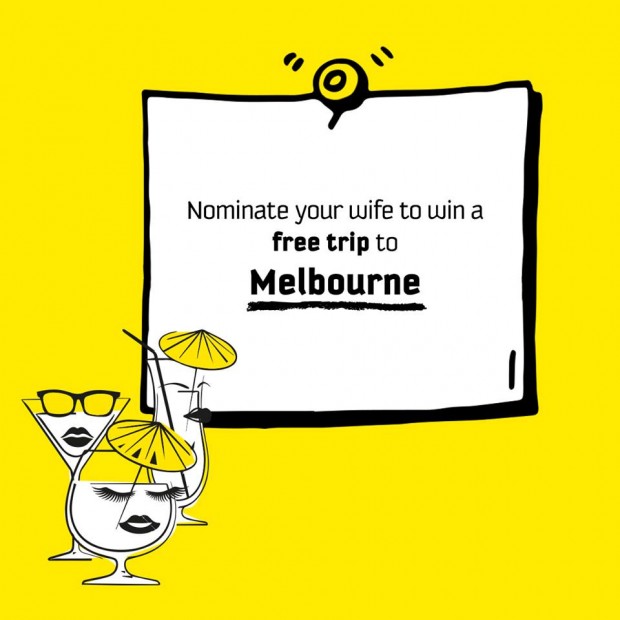 Scoot Mother's Day Giveaways

Going for a drink with your mates? Catching some football action this weekend? Well, sounds fun but don't forget about your wife!
Do one better than last year and surprise her with the best Mother's Day gift ever! WIN YOUR WIFE A FREE TRIP TO MELBOURNE because you know she deserves a break with her girlies (without you)!

Simply tag your wife, tell us why she deserves to go in the comment section below and she could win an all-paid-for girls trip to Melbourne with her two besties*!

*Contest ends 7 May, 2359hrs. Winner and her 2 girl friends must travel to Melbourne from 12 to 15 May 2016.

Terms and Conditions:
This contest (the "Contest") is organised by Scoot Pte Ltd (the "Organiser").
The Contest is only open to all participants above the age of 18 years with a permanent residential address in Singapore.
Submitting an entry automatically means you are agreeing to abide by these terms and conditions.
To enter the contest, participants (husbands) must nominate their wives and tell us why she is the best in the comment section.
Participants must be a follower of our Facebook page (www.facebook.com/flyscoot).
Entries must be submitted by 7 May 2016, 23:59 hrs GMT +08:00 (the "Deadline"). The Organiser reserves the right to amend the Deadline at any time without prior notice. All entries received thereafter will automatically be disqualified.
All entries submitted must NOT contain material which is (or promotes activities which are) sexually explicit, obscene, pornographic, violent (e.g., relating to murder, the sales or use of weapons, cruelty, abuse, etc.), discriminatory (based on race, sex, religion, natural origin, physical disability, sexual orientation or age), illegal (e.g. underage drinking, substance abuse, computer hacking, etc.), offensive, threatening, profane, or harassing or which is otherwise inappropriate, in the sole discretion of Scoot Pte Ltd, nor may the name submitted contain any derogatory references to Scoot Pte Ltd or any other person or entity including brands or trademarks of Scoot Pte Ltd or any other person or entity.
Copyright in all images submitted for this Contest remains with the respective entrants. Once submitted, entrants grant Scoot Pte Ltd permission to feature the submitted images in any of its publication, website, Facebook, Twitter, Instagram Pages and/or any promotional material related to the Contest.
Scoot Pte Ltd reserves the right to remove, in its sole and absolute discretion, any submission deemed inappropriate or that does not comply with the Contest Terms and Conditions.
Participants are required to be able to submit all necessary requested information when asked by official Scoot Pte Ltd representative(s). Except as otherwise stated in these Contest Terms and Conditions, personal information collected in connection with this Contest will be used in accordance with the privacy notice found in the section below. Any communication or information transmitted to Scoot Pte Ltd and/or the Facebook page by messaging or otherwise is and will be treated as non-confidential and nonproprietary. Submissions become the exclusive property of Scoot Pte Ltd and will not be returned or acknowledged. Proof of submission is not considered proof of delivery to or receipt of such entry. Furthermore, Scoot Pte Ltd shall have no liability for any submission that is lost, intercepted or not received by Scoot Pte Ltd.
Winners will be selected based on the quality of their submissions. Scoot Pte Ltd reserves the right to judge the quality of submissions and select the winners based on their subjective opinions. The decision made by Scoot Pte Ltd will also be final and non-negotiable.
One (1) winner will only be chosen to win a paid-for trip Melbourne from 12 to 15 May 2016. The winner is allowed to bring along two (2) female friends for the trip. The winner and two (2) female friends must purchase or possess a valid travel insurance for the trip. Flight, accommodation, transport, food and beverages and activities in Melbourne will be paid for by Scoot and Tourism Victoria. Winners will only be announced at Scoot Pte Ltd's sole and absolute discretion.
Visit Scoot's Facebook Page for more information or click here to see full Terms and Conditions apply.