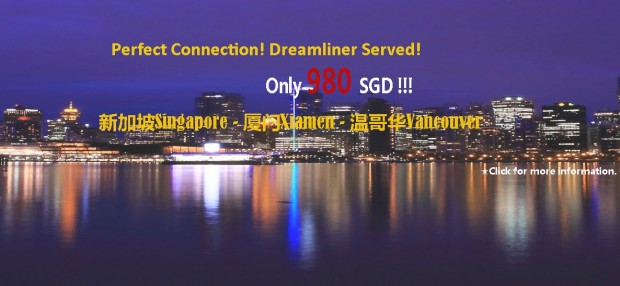 We are pleased to announce that Xiamen Airlines will launch a new route between Xiamen and Vancouver from 25th July 2016. Fly with us from Singapore to Vancouver with promotion fare from *SGD899!
1. Flights schedule & special offers
Directions
Route 1
Flight time
Route 2
Flight time
Outbound
Singapore-Xiamen
08:55-12:55
15:40-19:55
Xiamen-Vancouver
21:30-18:40
Inbound
Vancouver-Xiamen
01:45-05:30+1
Xiamen-Singapore
11:05-15:15
18:00-22:10
Fly with Xiamen Airlines to Vancouver offer you the choice for same day connection or stay a night at the charming city of Xiamen.
Routes
Date
Price(Taxes included)
Singapore-Xiamen-Vancouver
24FEB-17MAR;09SEP-25SEP;04OCT-20DEC
980 SGD
16JAN-23FEB;18MAR-07JUL;26SEP-03OCT;21DEC-27DEC
1080 SGD
01JAN-15JAN;08JUL-08SEP;28DEC-31DEC
1580 SGD
2. Top service
a. Free accommodation is available in Xiamen if your connection time to your next flight is between 6hrs to 24hrs.
b. Flight between Xiamen and Vancouver are operated by Boeing 787 Dreamliner.
3. How to buy tickets
You can buy this special offer with several methods below:
a. Via our website: http://www.xiamenair.com/en-sg/
b. Call ticketing number: 86-592-2226666
All Xiamen Airlines terms & conditions apply. Fares & rules as per GDS always takes precedence.
For more updates and to book your seats, visit Xiamen Airlines now!