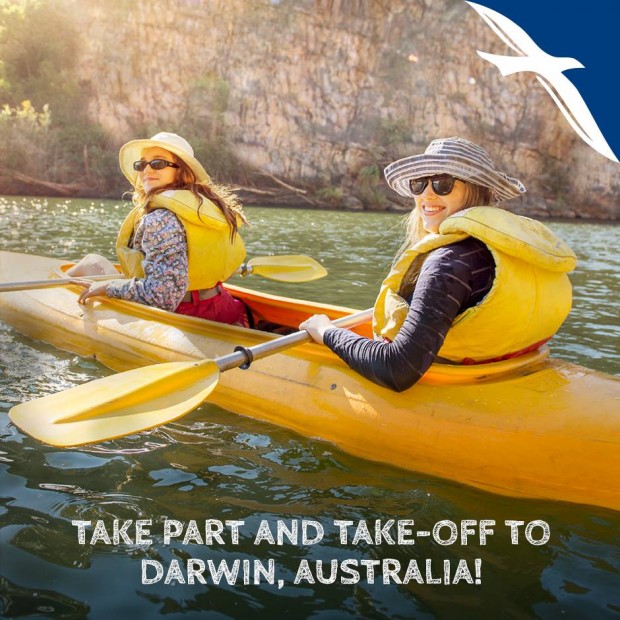 Stand a chance to win 4 tickets to Darwin
Participate in our 'Go Darwin' contest now! All you have to do is to fill up the contest form by clicking the 'Participate Now' button. Double your chance by coming down to our wall mural located at the Ocean Financial Centre and peel off a sticker to obtain a code.
HOW TO PARTICIPATE
Fill up the form and and receive one chance to take part in the 'Go Darwin' draw.
To double the chance, visit the wall mural located at Raffles Place MRT (exit to OFC building) and peel off a piece of the sticker on the wall mural.A code will be revealed behind the sticker to be entered in the form
Should there be no stickers left, participation is still accepted just by filling up the participation form whereupon the participant will stand one chance to win the prize.
The draw will be held on the 9th of June, with the winner to be announced on the same day via a Facebook post and also contacted by SilkAir via email.
Terms and Conditions:
This contest is open to all residents of Singapore except employees and immediate families of SilkAir (S) Pte Ltd, its affiliates, subsidiaries, suppliers, advertising and media agencies associated with this campaign. Corporations or other entities are also not eligible to participate in this contest.
The contest period is from 29 April 2016 to 26 May 2016.
Each participant is only entitled to participate once and win one lucky draw prize of 4 return tickets to Darwin, Australia. All winners will be notified via email only. All winners must present verifiable identification in order to redeem their prizes. SilkAir reserves the right to disqualify the entries of winners who fail to comply. Prizes are not transferable.
The winner must be part of the travelling party that will be travelling on the awarded prize tickets. If the winner is under 18 years of age, he/she should be accompanied by a parent or legal guardian on his/her flight in accordance with SilkAir's Unaccompanied Minors policy.
Check out SilkAir to read full Terms and Conditions that apply.