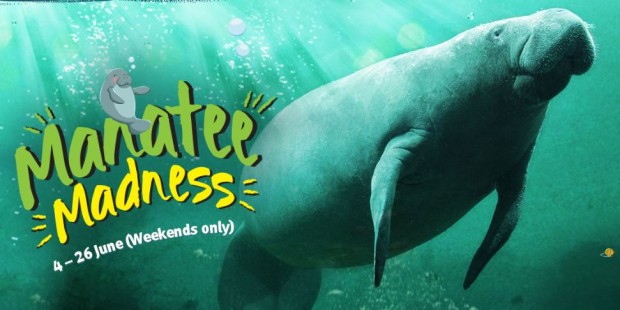 Be among the exclusive few to dive with our manatees in the Amazon Flooded Forest exhibit. One lucky winner and his or her partner will enjoy this special program not available to the general public.
Simply post a photo or video on Instagram to show your love for manatees and stand to win.

How to Join?
Post a photo or video entry on Instagram to show your love for manatees
Include both #manateemadness and #riversafari hashtags
​Make sure that your profile is not private or we won't see your entry
Prizes:
Grand Prize - Dive experience in Amazon Flooded Forest exhibit for two. Includes River Safari admission.
Consolation Prize
s - 4x 1 pair of River Safari admission ticket + mini manatee plush
Contest Period is from 30 May to 26 Jun 2016

Winners will be selected by Wildlife Reserves Singapore based on quality of entry and announced on this webpage by 15 July 2016. Winners will also be contacted on Instagram.

Terms and Conditions:
This Contest is only open to local residents aged 3yrs and above as at 30 May 2016. Participants who are below the age of 18 shall submit proof of parental or legal guardian consent for their participation in this Contest. Directors, employees and immediate family members of Wildlife Reserves Singapore Pte Ltd, Singapore Zoological Gardens and The Jurong Bird Park Private Limited (organizers) shall not be eligible to participate in this Contest.
The Contest will commence on 30 May 2016 through 2359 hrs on 26 June 2016. Entries submitted or received after 2359 hrs on 26 June 2016 will not be included in the Contest.
There is no limit to the number of submissions per participant and the photograph submitted must be participant's own work without any digital manipulation that distorts the reality of the photograph. Each photograph entry must be uploaded onto Instagram and viewable by public. Incomplete entries or photos depicting obscene/offensive acts will be disqualified.
The participant warrants that he/she is the sole owner of all intellectual property rights and other proprietary rights to the photograph, image, content of the caption and any creative work and materials entered for this Contest (collectively referred to as the "Materials") and that he/she has no licensed or assigned any intellectual property rights in the Materials to any person.
The participant grants the Organisers a non-exclusive, royalty free and transferable right to use, reproduce, edit or distribute any Materials submitted for the competition in any media format and media channels as deemed fit by the Organisers, for the purpose of promoting the Contest or the causes that the Organisers stand for.
The Organisers will not be liable for any loss, damage or personal injury whatsoever (including but not limited to direct, indirect and consequential loss) suffered or sustained in connection to the participant's participation in the Contest, or with the use of any part of the prize, except for liability which cannot be excluded by law (in which case that liability is limited to the minimum allowable by law).
If any act, omission, event or circumstance occurs which is beyond the reasonable control of the Organisers, and/or the other respective prize sponsors/providers and which prevents the Organisers, the other respective prize sponsors/providers from complying with any of the obligation under these Terms and Conditions, the Organisers, the other respective prize sponsors/providers will not be liable for any failure to perform or delay in performing its obligations.
The Organisers reserve the right to suspend or cancel the Contest, disqualify any participant or entry that does not comply with the criteria stated in these Terms and Conditions.
By entering/submitting the entry, the participant is deemed to consent to the Organisers to have the right to use the prize winners' names, images and comments relating to their contest experience for any announcement/marketing/promotion/publicity purposes in any media without any notice/compensation.
Winners will be selected by 15 July 2016 and be contacted via Instagram to inform them of their winning. Failure to respond and acknowledge to the notice posted by organizers within 5 working days will result in disqualification or forfeiture of the prize.
The Organisers reserve the right revise these Terms and Conditions at any time without any prior notice.