The third Unlisted Collection: property in Singapore is located in an old settlement where Indian immigrants once reared cattle and
livestock. Its history began in the 1920s as the Hong Wen School, where the building at No 2 Dickson Road still retains its old-world charm
with an unchanged façade. Situated 10 minutes from the cosmopolitan stretches of Orchard Road and the Central Business District; Wanderlust also offers door step access to a bustling, colourful street life.
The four storey boutique hotel has 29 rooms, featuring the ground breaking works of award-winning Singapore design agencies Asylum, :Phunk Studio and fFurious – this is the first-ever hotel project for each design agency. Working alongside them is Singapore architect firm DP Architects.
Kick-start your Wanderlust journey in the lobby designed by Chris Lee and Cara Ang of Asylum: 'Industrial Glam' is a juxtaposition of the hotel's Little India setting and contemporary design. Stealing attention right at the door is a curved feature wall plastered with a meandering montage of vintage print ads that reflect the neighbourhood's culture.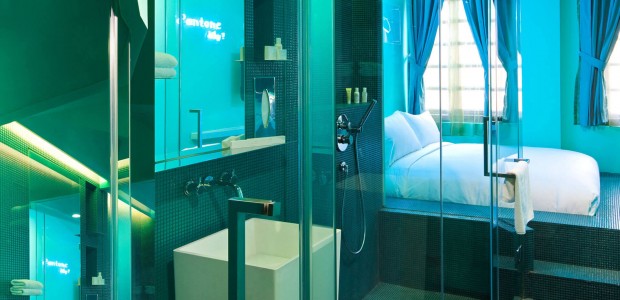 ​Pantone Room
For those who love their pantone charts, Level 2 nicknamed "Eccentricity" by Phunk Studio showcases 10 'capsule-like' rooms each playfully rendered in a single colour and sports neon signs of apt song titles such as 'Red Light by U2', 'Purple Haze by Jimi Hendrix' and 'White Noise by Blur'. Specific room request is subject to availability. *Bathrooms are partially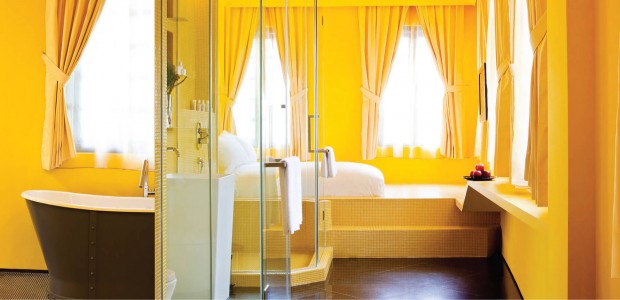 Pantone Deluxe Room
The only Pantone Deluxe Room in the hotel, it features a vintage cast-iron bathtub. The entire room is rendered in yellow and pays homage to The Beatle's 'Yellow Submarine".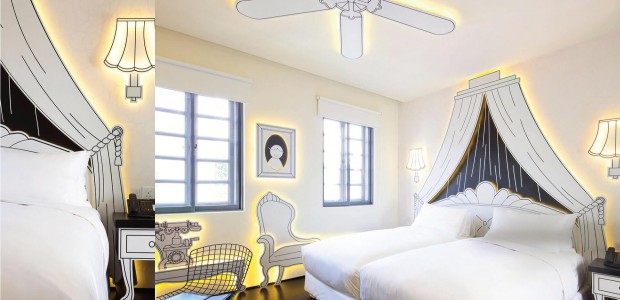 Mono Room
A total of 8 Mono Rooms on Level 3: 'Is It Just Black or White?' by DP Architects. Walk across a black corridor lit by the glow of neon lights and step into the nine rooms clad in contrasting white. Using paper as inspiration, 5 rooms are known as Origami and the remaining 4, Pop-Art. In the Origami rooms, sharp undulating ceilings represent paper folds and special lighting systems allow guests to choose, via a click-wheel, four colours to 'paint' their room up. In the four Pop-Art rooms, themed 'Princess', 'Flowers', 'Big' and 'Directionless', discover different animated scenes of stencilled art installations. Specific room request is subject to availability.
Mono Deluxe Room
Located on Level 3, this single unit of the Mono Deluxe Room measures 24 square meters and is the only Pop-Art room with a glass-encased bathtub feature.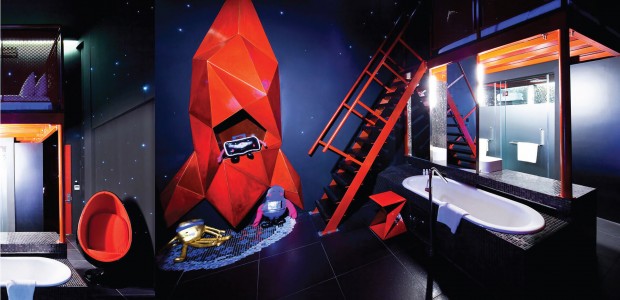 Whimsical Room
The top floor, nicknamed 'Creature Comforts' by fFurious offers friendly monsters as companions to the lonely traveller. Featuring 9 loft rooms with five varying themes – 'Bling', 'ASCII', 'Space', 'Tree' and 'Typewriter'. Wander through a surreal fairyland to discover a giant monster holding up room lights in one room, a forest tree stuffed with friendly creatures in another, or a floor-to-ceiling rocket with friendly aliens or a giant typewriter. Along the corridors, specially crafted lanterns cast shadows of monsters on the walls. Specific room request is subject to availability.
Exclusive TripZilla Booking Code: TZ10
Use this code to book directly via
W
anderlust
to get 10% Off the Best Available Rate and inclusive of breakfast.
Terms & Conditions:
Key in the above code under the "Special Code – Corporate/Promotion Code" portion in the booking link.
Valid for direct booking via the respective Singapore hotel websites only.
Reservations must be cancelled or modified 2 days prior to arrival day to avoid a fee of 1 night plus tax. No-Show fee: Full stay plus tax.
All reservations must be guaranteed with a credit card which is valid on the day of arrival. Non-guaranteed reservations are not accepted.
Code is valid until 31 Dec 2016