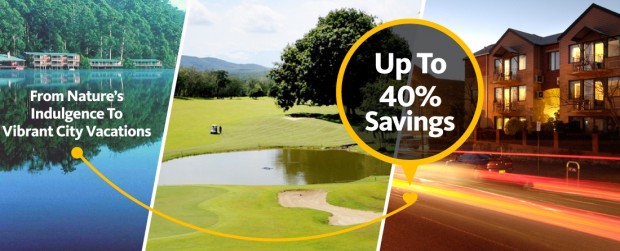 Enjoy below savings with Maybank when you book and stay at The Fairway Harvard Suasana Hotel
20% off Best Available Rate
40% off Green Fees on weekdays
20% off food bill at The Fairway Café
[Promotion Code: MAYBANK2016]

Terms and Conditions
Valid from 15 January to 15 July 2016
Bookings are subjected to availability and terms of the relevant hotels. Bookings are non-refundable, with full prepayment upon confirmation of booking. Bookings are non-exchangeable, non-transferrable and non-amendable.
Privilege is not applicable to Groups, Tours and Convention Events' booking.
Blackout dates apply. Please check with respective hotels for other close out dates.
Not valid in conjunction with other promotions, discounts, offers, privilege cards or vouchers.
Prior reservation MUST be made through [email protected] with promotion code:MAYBANK2016
Privilege is subject to local government tax and surcharges.
Please check with respective hotels for Hotel's terms and conditions and Cancellation Policy, which shall apply to the bookings and stays.
Valid for one-time discounted green fees per Cardmember for one golf game booking only.
Minimum 2 golfers and maximum 4 golfers per flight for weekday bookings (subject to pairing and at the discretion of golf club).
Cardmember(s) will not be granted access rights to stipulated club without prior bookings.
All bookings are subject to availability.
Slot for Guest(s) of Eligible Cardmember(s) must be booked through the same booking.
Bookings must be made at least 2 working days but not more than 10 working days in advance.
Cardmember(s) cannot book for the next golf game until the current booked game has been played.
All payments for green fees and/or applicable charges for Eligible Cardmember(s) and guest(s) must be made upon registration and charged to the Cardmember's Maybank Card.
Rates quoted are exclusive of taxes and charges.
Cancellation charges may apply to Cardmember(s) and their guest(s). Please consult the respective golf club for cancellation policy.
Cancellation fees will be charged to Cardmember(s)' Maybank cards and until such time the outstanding cancellations are paid, Cardmember(s) will not be granted the next golf booking.
Cardmember(s) are deemed to have understood the cancellation policy upon acceptance of golf booking confirmation.
The privilege cannot be used by Eligible Cardmember(s) or their guest(s) in conjunction with any golf promotion or for participation in any golf tournament and/or corporate/social golf arrangements at the respective club.
Eligible Cardmember(s) and his/her guest(s) are required to pay for the use of the buggy and caddy at normal published rates. Any other applicable fees or charges are to be borne by the Cardmember(s) and his/her guest(s).
Cardmember(s) and his/her guest(s) should hold valid golfer's insurance at time of booking of golf game.
Cardmember(s) and his/her guest(s) must have a valid handicap and the Club may require golfers to produce their handicap card upon registration.
There will be no rain check after tee-off.
The privilege is valid for golf course access only and does not constitute a golf club membership. Cardmember(s) and or their guest(s) will not have access right to other facilities at the golf club.
Maybank and its vendors do not assume liability and Cardmember shall not make any claim whatsoever for (i) injury or bodily harm or (ii) loss of or damage to property, howsoever caused, arising from or in connection with this Privilege.
The terms and conditions of each Golf Club shall also apply. Please consult the respective golf club for full terms & conditions.
Privileges cannot be exchanged for cash or used in conjunction with other promotional programmes, offers, vouchers or privilege cards.
Check out Maybank Promotion Page to view all offers exclusive for cardholders.