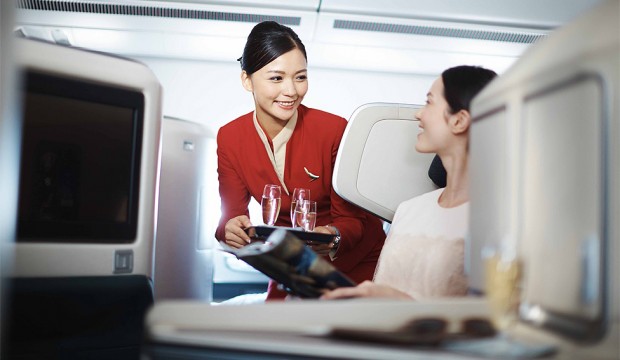 Enjoy special Premium Economy and Business Class airfares on Cathay Pacific to over 30 destinations around the world from 18 July to 8 August 2016
What's more, earn 1,000 bonus Asia Miles when you join and book online.

To book, visit cathaypacific.com/sg
Destinations
All-in Two-to-go Premium Economy
Class Fares from
All-in Two-to-go Business
Class Fares from
Hong Kong
S$688
S$1,468
Bangkok
S$378
S$548
Taipei
S$848
S$1,368
Kaohsiung, Taichung
-
S$1,368
Fukuoka
S$1,088
S$1,878
Nagoya
S$1,098
S$1,898
Tokyo
S$1,108
S$1,898
Osaka
S$1,108
S$1,908
Hiroshima
-
S$1,868
Seoul
S$1,158
S$1,888
Busan
-
S$1,888
Beijing, Shanghai
S$928
S$1,578
Ningbo, Nanjing, Qingdao, Wenzhou, Xi'an
-
S$1,578
Milan
S$2,238
S$4,788
Zurich
S$2,238
S$4,908
Dusseldorf
S$2,288
S$4,958
Rome
S$2,258
S$4,798
Frankfurt
S$2,318
S$4,988
London
S$2,348
S$5,478
Amsterdam, Madrid
S$2,368
S$5,178
Paris
S$2,408
S$5,158
Manchester
S$2,618
S$5,298
Los Angeles, San Francisco
S$2,298
S$5,708
New York, Boston
S$2,448
S$7,178
Chicago
S$2,448
S$6,828
Vancouver
S$2,698
S$6,318
Toronto
S$3,028
S$7,058
Terms & Conditions
Fares listed are exclusive to HSBC credit or debit card holders.
Card holder does not need to be the traveller.
Promotion is valid from 18 July to 8 August 2016.
Advertised fares are valid for travel from 18 July 2016 to 31 March 2017, and are applicable with two or more passengers travelling together in one booking.
All-in fares are based on per person basis, and include applicable taxes and surcharges, which are correct as at time of publishing, and are subject to changes at point of ticket issuance. Advance purchase is required.
Availability of Premium Economy Class seats is subject to aircraft deployment and operational requirement.
Offers are subject to reservation system and seat availability at time of booking.
Cathay Pacific's air ticket terms and conditions and their carriage terms and conditions apply.
Visit cathaypacific.com/sg for full terms and conditions.
To enjoy the Bonus Asia Miles, members must book online at cathaypacific.com/sg and enter their Asia miles membership number at time of booking.
Asia Miles terms and conditions apply.
Visit HSBC Promotion for more details and to view all offers exclusive for cardholders.