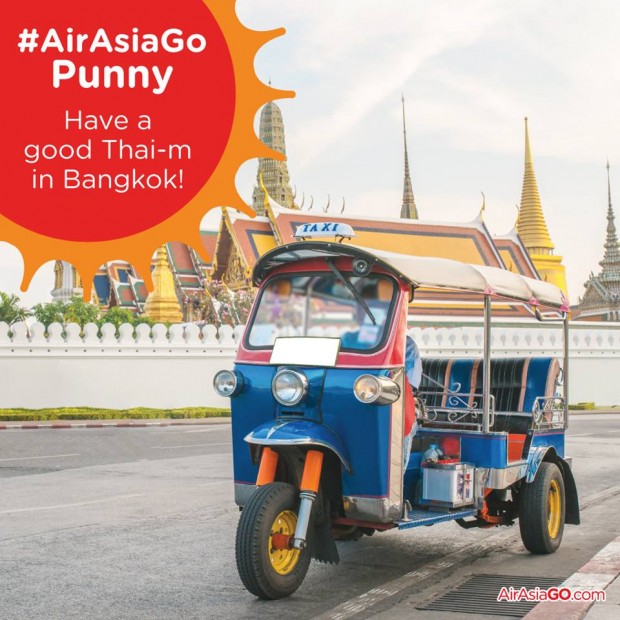 Your Thai-m is running out! Share your punniest entries and stand to win an all-expenses-paid 3D2N trip to Bangkok for 4. Contest ends in a few days so act fast!

Here's how:
1. Create a video OR upload a picture telling us why you and your friends deserve the trip.
2. Ensure your video/picture contains puns about Thailand.
3. Upload your video/picture on Facebook or Instagram and hashtag #AirAsiaGoPunny#AirAsiaGoSG.

Winners will enjoy the ultimate Thai experience by engaging in cultural activities like learning traditional Muay Thai, trying their hand at Thai cooking, and more!

Contest period: now till 31 July 2016 | Travel period: 22 August – 24 August 2016

Terms and Conditions:
1. The AirAsiaGo Singapore '#AirAsiaGoPunny' contest ("Contest") is held from Monday, 27th June 2016 12:00pm (GMT+8) to Sunday 31st July 2016 11:59pm (GMT+8) ("Contest Period").
2. The Contest is open to Singapore residents aged 18 years or above as at the start of the Contest Period who are followers of the AirAsiaGo Singapore Facebook page ("Participants") except permanent employees and temporary employees ("Staff") of AAE Travel Pte. Ltd. ("AAE" or the "Organiser") and any of its Affiliates, advertising agencies, dealers, distributors, vendors, participating outlets, promoters, and the immediate family members of Staff. An "Affiliate" shall refer to any entity (whether a person, corporation, partnership or otherwise) that directly or indirectly, controls, are controlled by, or are under common control with AAE. An entity shall be deemed to be in "control" of another entity when it holds fifty (50%) percent or more of voting shares in that entity or has management control of that entity. AAE and its Affiliates shall be referred to as the "AAE Group".
3. To participate in this Contest, Participants must create a video telling us why they should win a 3D2N trip to Bangkok for a group of 4 ("Prize"), upload the video on Facebook or Instagram and hashtag #AirAsiaGoPunny and #AirAsiaGoSG. The video must feature the Participant and three other friends whom he/she will like to travel with ("Travel Companions") and must incorporate puns about Thailand.
4. The Prize consists of return flight tickets from Singapore to Bangkok, a 2 nights hotel stay in Bangkok and local tours/activities in Bangkok for 4 persons (being the winning Participant and his/her Travel Companions). The choice of flight, hotel and local tours/activities shall be determined by the Organiser in its sole discretion. By entering the Contest, Participants and their Travel Companions are taken to have read and agreed to these terms and conditions, including participating in the tours/activities set by the Organiser during the trip (Monday 22nd August - Wednesday 24th August 2016). Local tours/activities may include, but are not limited to, any of the following: Thai cultural experiences and historical exposure, learning Muay Thai, Thai cooking, experiencing Thai local street food, Tuktuk rides, elephant riding and Thai massage lessons.
5. By entering the Contest, the Participants signify acceptance and agreement to all Terms & Conditions set out here, as well as any terms of use set by the Organiser.
6. Participants who successfully submitted their entries in accordance with the stipulated contest mechanics stand a chance to win the Prize.
7. A panel of judges selected by the Organiser in its sole discretion will review all eligible entries submitted through Facebook or Instagram during the Contest Period, and select a winner from amongst the Participants. Contest entries will be judged based on creativity and originality.
8. Only 1 winner will be selected by the Organiser at its sole discretion.
9. The winner will be notified via a repost of his/her winning submission on the AirAsiaGo Singapore Facebook Page on Wednesday, 10th August 2016.
10. The winner must then send a message to the Organiser on Facebook with his/her contact e-mail address. The Organiser will then follow up with the winner via email with instructions on how to claim the Prize. If a winner does not respond and comply with the Organiser's instructions within seven (7) days, he/she is taken to have rejected the Prize and unconditionally and irrevocably waives all rights in relation to the Prize. The Organiser reserves its rights to deal with all unclaimed prizes in any manner deemed fit and may forfeit the Prize without notification to any party. The Organiser is not obliged to draw another winner.
Visit AirAsiaGo Facebook Page for more details and latest updates!