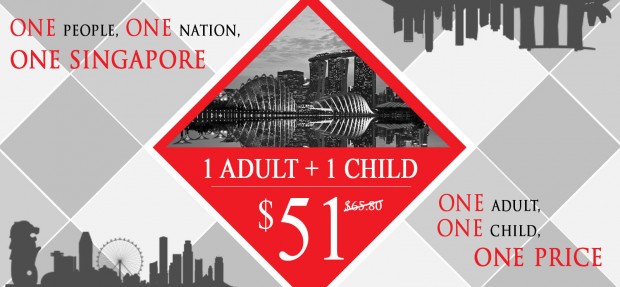 We have good news for all the adventure enthusiasts of Singapore. You can now buy tickets for 4D Adventureland at a special discounted price without compromising on your fun and adventures. As a part of the National Day Promotion, Sentosa 4D Adventureland is giving away a special ticket which would enable an adult along with one child to enjoy all the fantastic 4D screening for just $51. Instead of spending $65 you just need to pay $51 to cover yours as well as your kid's expenses. In order to avail this special promotion you need to buy your tickets online. Hurry up and get your special tickets since the promotion is going to end on 31st August 2016. However the tickets you purchase online is going to valid for 2 months from the date of purchase.
The National Day Promotion One day adventure pass unlimited ticket would allow you and your child to enjoy all the best screenings at 4D Adventureland. This means that you will get to watch all the 3 shows of Adventureland viz. Journey 2, Extreme Log Ride and Desperadoes.
Journey 2: The Mysterious Island is a sequel to the Hollywood blockbuster Journey to the Centre of the Earth (2012). These adventure fantasy movie stars Michael Caine, The Rock, Vanessa Hudgens, Kristin Davis, Luis Guzman and Josh Hutcherson. Journey 2- The Mysterious Island a movie with a cult following can now be enjoyed in full 4D only at Adventureland. A 20 minute screening of the excerpts of this movie would take you through a mind blowing adventure in a picturesque yet deadly island of the Pacific. Fasten your seat belt as the gigantic mammoths and other scary creatures glide past you. In the 20 minutes screening session you will get to watch some of the best and most thrilling parts of the movie and the state of art audio visual experience is sure to keep you coming back for more.
Extreme Log Ride: Extreme Log Ride in full 3D is a show which you should never miss out at any cost. The most exciting of all the Adventureland screenings Extreme Log Ride is a 10 minutes powerful experience in the perilous landscape of the fantasy land Himalazon. In this ride you will be stepping into the shoes of a super tree whose job is to save mankind from extinction. As the super log glides through the narrow rivulets and gorges you can expect to roll, bounce or even fly through one of the deadliest landscapes of Adventureland. Both adults and children scream insanely as they make their way through the fierce streams of Himalazon.
Desperadoes: Desperadoes is a Western action adventure screening where the audience are required to participate in a gunfight so as to exterminate the bad guys. You need to have basic shooting skill in order to enjoy this interactive game. The one who gets the lowest score is labelled as a donkey. You will be given a motion sensor gun with which you need to finish off all your enemies.

Terms & Conditions:
Promotions will end on 31st Aug 2016
Purchased tickets are valid for 2 months from the date of purchase.
This promotion is for on-line purchase only
It's a 4D One Day Adventure Pass (unlimited). Tickets purchased are entitled to enjoy Journey 2, Extreme Log Ride & Desperadoes unlimited on the day of visit
Visit Sentosa 4D AdventureLand for more details and to reserve your tickets now!