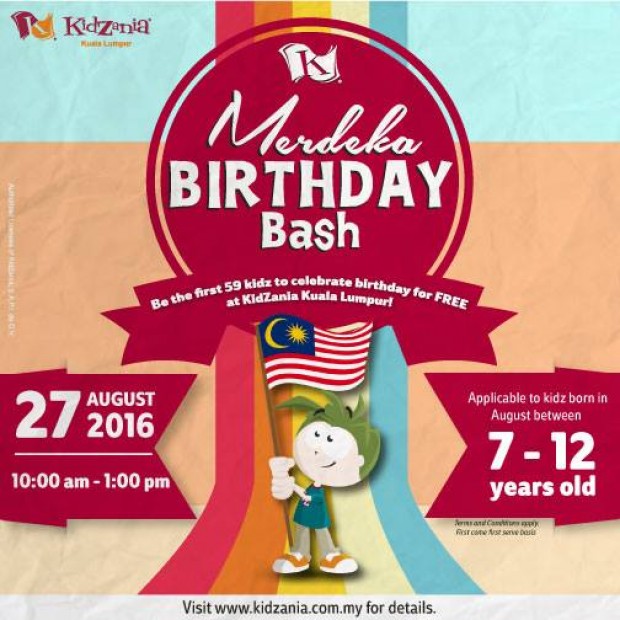 Parents with August babies! We have kool news for you!
We'd like to invite our CitiZens and everyone else to come and celebrate with us at KidZania Kuala Lumpur's Merdeka Birthday Bash on Saturday 27 August 2016! ZaZ!
Each celebrant will get goodies and yummy treats from us :D
All you have to do is be the first 59 to send us a Direct Message (DM) here with your child's details (Name, Date of Birth, MyKid/Passport No, BKidZanian PaZZport No (if any) and Parent's Contact Details).
Valid for kidz between 7 - 12 years old (born between 2004 - 2009) on a first come first served basis.
Other terms and conditions apply. Visit www.kidzania.com.my to find out more. Z-U soon!
Terms & Conditions
KidZania Kuala Lumpur (KZKL)'s Merdeka Birthday Bash (Event) will be held on Saturday, 27 August 2016 from 10:00am – 1:00pm
The Event is open to 30 CitiZens from the BKidZanian programme and 29 members of the public
Based on a first come first serve basis, all of the 59 kids will get to celebrate their birthday for free at KidZania Kuala Lumpur on Saturday, 27 August 2016 from 10:00am – 1:00pm
The mechanics for the recruitment are:

CitiZens

eDM will be sent to the CitiZens
First 30 interested participants to contact our call centre team at 1300 88 5439 (KIDZ) to confirm on their attendance

Public – KZKL Facebook Page

Post will be published on KZKL Facebook Page
First 29 interested participants to send a Direct Message (DM) with their details before being contacted by our call centre team

Each celebrant will be entitled to 2 complimentary tickets (1 Kid and 1 Adult) and 1 birthday party pack for the Event
Complimentary tickets (1 Kid ticket and 1 Adult Ticket) are applicable only to registered celebrants from the ages 7-12 years of age born in the month of August only.
Registration period: 10 – 20 August 2016 OR registration will be closed once the total registered celebrants reaches its permitted limit
Only confirmed respondents contacted and emailed by our call centre team are eligible to participate in the Event
Parents are required to show their child's MyKid at the registration counter on Event day for validation of birthday in August
Any additional ticket(s) can be purchased on Saturday 27 August 2016 itself.
By participating in this Event, the contestants confirmed that they have read, understood and agreed to be bound by this T&C.
By participating in this Event, KZKL has full rights to use and publish all media (photos/videos) taken during the Event for future promotion and marketing purposes and waive any claims to royalty, right or remuneration for such use.
KZKL reserves the right to disqualify or exclude any person from the giveaway and forfeit the prizes of any winners, if the contestants failed to comply with any of this T&C.
KZKL's decisions regarding the terms and conditions, conduct, prizes and all matters relating to the Contest shall be final and no communication in that respect will be entertained.
KZKL reserves the absolute rights to change, amend, delete or add to the T&C including to change the Prize or not to award any Prizes or to cancel or suspend the event, without prior notice and compensation, at any time.
Visit KidZania Kuala Lumpur for more details about this limited offer!