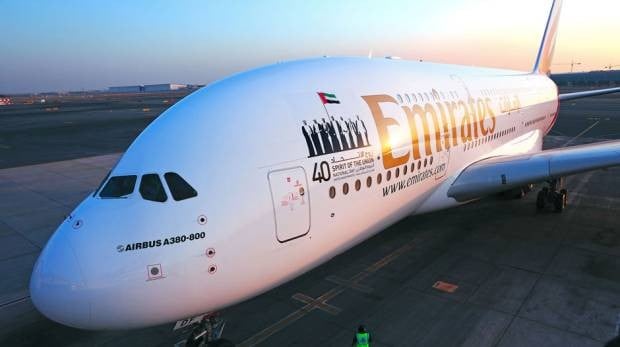 Book online using the promo code SGMAST1 and enjoy a 10% saving* on regular fares, or a 5% saving* on promotional fares in Business Class and Economy Class to London, Rome, Paris, Amsterdam, Barcelona, Zürich, Copenhagen, New York, Dubai, Colombo, Melbourne and Brisbane.
Your holiday begins with your first step on board an Emirates flight with award-winning service, gourmet cuisine and over 2,500 channels of inflight entertainment. Take advantage of our generous baggage allowance of 30kg in Economy Class or 40kg in Business Class - pack more into your bags or bring back more than just memories, the choice is yours.
Chauffeur-drive
We offer our Business Class customers a complimentary Chauffeur-drive servicefrom home or hotel to the airport, and then again on arrival, to your ultimate destination.
Discover ice
ice – information, communication, entertainment – is Emirates' state-of-the-art, award-winning inflight personal entertainment system which has over 2,500** channels of music, movies, games and news to choose from in all classes.
Earn even more Skywards Miles
Skywards Miles Accelerator gives you the chance to earn extra Skywards Miles when you fly on selected routes. If you are not a member, join Emirates Skywards now at no cost, and start earning Miles on your next flight, as well as with our wide range of partners.
Dubai Stopover
Enjoy a break in Dubai on the way to your destination. The shopping, spas, and fun-filled beaches make a perfect getaway, leaving you wanting just a little more. Learn more about Dubai Stopovers.
*Discount applies to airfare only; fuel surcharge and third-party taxes are not discounted. This offer is only valid online for bookings until 30 September 2016, and for departures from Singapore through to 31 December 2016.
**Selected aircraft only. Where ice is not available, Emirates provides personal screens in every seat in all classes, offering a choice of over 40 channels of entertainment and 18 interactive games.
Terms and Conditions:
This offer is only valid for MasterCard credit or debit cardholders. All bookings must be made online using promo code SGMAST1.
Offer is valid for purchase of return tickets originating from Singapore to selected Emirates-operated destinations.
Sales period: until 30 September 2016.
Travel period: until 31 December 2016.
Discount is applicable for child fares, not for infant fares.
Payment must be made online during the booking process using only MasterCard credit or debit cards.
All flight sectors must be confirmed prior to ticketing.
Amendment and cancellation penalties may apply for date changes/rerouting and will vary depending on destination and class of travel. Check 'Fare Conditions' from an online quote to view these and other applicable fare conditions.
Please contact Emirates at 6622 1770 for further enquiries.
Visit Emirates for more details and to book your seats now!