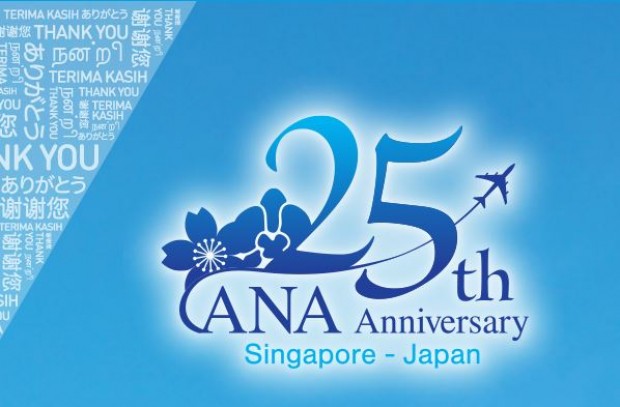 Just by saying "THANK YOU" is never enough!

Rejoice & Celebrate ANA's 25 Exciting Years in Singapore. Embark on our virtual tour to win a trip to any destinations in Japan or North America.

Step 1: Choose your preferred destination!
Step 2: Explore various destinations with ANA
Step 3: Fill in your particulars and confirm your destination
​Step 4: Submit your dream application

Double your chances of winning if you purchase ANA International tickets from 18 August till 13 October 2016.
Basic Regulations
This terms & conditions apply to the campaign of "ANA 25th Anniversary" (herein referred to as the "Campaign"). Those who wish to submit Campaign entries (herein referred to as the "Entrant(s)"), should read the following rules carefully and submit an entry only after agreeing to the terms. It will be assumed that Entrants who submit entries are in agreement with the following content. ANA social media terms of use(http://www.ana.co.jp/share/social/)shall apply to the Campaign.
ANA reserves the right to revise all or part of this terms & conditions at their own discretion without any prior notification to the Entrants. In such cases, said revisions shall go into effect from the time they are posted on the following site.
(https://www.ana-campaign.com/singapore25)
ANA's decision on all matters relating to the contest and its promotion is final, conclusive and binding on all Entrants and no correspondence will be entertained.
Application period
By 18:00 on 13 October, 2016
Eligibility
The Entrants are restricted to those who reside in Singapore and hold a valid passport of 6 months validity as of date of departure.
The Entrants must be 18 years old or above as of 13 October 2016
Limited to one (1) entry per qualifying entrant in the case when a Winner cannot attend the event, we reserve the right to select another Winner.
Selection method
The Campaign's management office (herein referred to as the " Office") will randomly select the winners of the Campaign(herein referred to as the " Winner(s)").
All participants will stand a chance of winning except for 1st Prize where ANA ticket holders who purchased ANA ticket between 18 Aug'16~ 13 Oct'16 will stand double chance.
Double chances is allowed after Entrants have submitted the application with purchase of ANA tickets between 18 Aug'16~13 Oct'16
Please note that after the selection of the Winners, if a Winner is discovered as ineligible to the Campaign, the prize for the Winner shall be rescinded.
Announcement of the Winners
Planned on 26 October 2016 or Before End of October 2016
The Winners will receive an email from the Office ([email protected]). Winning notification will be sent via email notification. Only the Winners will receive result notifications. We cannot respond to inquiries regarding the reasons for selection or progress.
Winners' benefit
The Winners' benefit may not be transferred or sold. Nor can we respond to requests of exchange, refund, or cash exchange. The Campaign contents and/or the Winners' benefit may be altered without prior notification.
1st Prize : Grand Prize - A pair of ANA economy Class tickets to Japan or USA (North America)
Flight will be strictly departing from Singapore only.
The Winner of 1st prize shall be subject to the following conditions:

Ticket is not exchangeable for cash, non-transferable, non-endorsable, non-reroutable and non-refundable under any circumstances.
1st prize winner's name change is not allowed and the prize winner must travel.
1st prize winner & travel companion must return on the same dates and flights.
Ticket is not applicable on code-share flights.
Seats are subject to availability.
Ticket is ineligible for AMC mileage accrual & upgrading using mileage is not allowed.
Ticket is excluding applicable taxes and surcharges. Applicable taxes and surcharges shall be paid fully by 1st prize winner and payable by cash only.
Ticket is valid on flight date shown. Date and/or Name change is not permitted.
Travel period: October 2016 till end of March 2017 [based on departure date from Singapore].
Ticket is valid for one month from date of departure out from Singapore.
Embargo Dates for Ex-Singapore : 23th December 2016 till 1st January 2017, 27th January 2017 till 30th January 2017
Booking must be made at least 2 weeks before departure from Singapore for travel. On or before 17th March 2017 [based on departure date from Singapore]
Prize not claimed before or on 17th March 2017 shall be forfeited. No extension of validity under any circumstances is allowed.
Changes are not permitted, once booking is confirmed.
All passports and visas must be valid for at least six [6] months from the date to departure into the destined country or countries of destination. The prize winner is responsible for obtaining the necessary visa required for the travel.
Stopover is not permitted to domestic Japan and North America / Hawaii

2nd and 3rd Prize: ANA DESIGN Style Luggage
Other prize: Exclusive ANA Limited Edition Ezlink Card
Prohibited items
The Entrants agree not to engage in the following items with regard to the Campaign. In the event that the Entrant(s) or their affiliates do engage in any of the following, regardless of reason, participation in the Campaign will be declined.
Using someone else's name, for the purpose of impersonation
Using the service provided by the Campaign for fraudulent purposes
Infringement on any rights of other Entrants or third parties, such as discrimination, slander, intimidation, or infringement of privacy or human rights.
Any act that results in harming the honour or credit of the Campaign or damages its reliability
Any act that interferes with the operation of the Campaign
Any acts in violation of laws, regulations, or public order and morals, or any acts that could possibly be interpreted as such
Any other acts the ANA deems unsuitable or inappropriate
Temporary interruption of the Site
ANA may change, suspend, cancel or end part or all of the Campaign without any prior notice in the following cases. ANA will not assume any responsibility for any damages that may be incurred as a result of these circumstances.
Regular or emergency maintenance of the Campaign's site
Cases where the Campaign Site cannot be maintained due to fire, power failure, or poor connectivity
Cases where the Campaign Site cannot be maintained due to earthquake, volcanic eruption, flooding, tidal wave, or other acts of God, riots, labour disputes, or by order of a government office
Cases where there has been a disturbance in the Campaign's system, or when the Sponsor has determined there is a risk of disturbance
Other cases where ANA has determined it would be difficult to accommodate or continue the Campaign
Handling of personal information
ANA will be collecting the personal data of the Entrants and/or their parents or guardians for the purpose of contacting the Winners, security clearance, this lucky draw, statistical analyses, marketing and/or survey participation. ANA may also disclose such personal data to our service providers and/or agents for these purposes.
Any other personal information provided will not be disclosed or provided to any third parties outside our subcontracted affiliates without the customer's consent. (Except in cases where disclosure is required by law)
Each Entrant's participation in the contest indicates the Entrants' and/or his/her parent's or guardian's consent for the collection and use of the personal data as described above and their parents/guardians may contact us to request a copy of the relevant personal data held by ANA, and may correct any inaccuracies in such personal data. Please contact us via [email protected] for this purpose.
*Please refer to ANA's privacy policy (https://www.ana.co.jp/share/privacy/) regarding the handling of personal information.
Images of ANA 25th Anniversary campaign will be published on ANA SKY WEB (including but not limited to the company homepage and social networking services managed by the company) and/or used in ANA promotional campaigns. Also, media coverage may include the presence of TV cameras. Please be noticed that the Winners and their guests may also be filmed in that coverage.