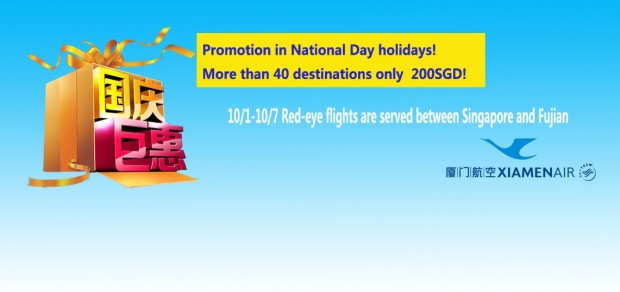 Special offers in National Day of China!

During 1st Oct and 7th Oct, Xiamen Airlines will fly two more red-eye flights between Singapore and Fujian with special offers to celebrate the 67th birthday of China.
1. Flights Schedule
Routes
Flights Time
Date
Singapore-Xiamen
Outbound 02:30-06:50
Inbound 21:10-01:30
10/1,10/2,10/6,10/7
Singapore-Fuzhou
Outbound 03:30-08:05
Inbound 21:55-02:30
10/1,10/2,10/7
2. Special offers
​Destinations
Special offers(taxes excluded)
Beijing/Guangzhou/Changsha/Hefei
Jiuhua Mountain/Huangshan/Zhoushan
Nanchang/Guilin/Ningbo/Nanjing/Yancheng
Shanghai/Shenzhen/Wuhan/Yichang
Wuyishan/Zhuhai
200 SGD
Chongqin /Haikou/Hohhot/Harbin
Yinchuan/Guiyang/Lanzhou/Nanning
Shenyang/Sanya/Qingdao/Jinan
Taiyuan/Luzhou/Wuxi/Xining
240 SGD
Chengdu/Changchun
280 SGD
Urumqi
360 SGD
3. Restrictions
1)Departure dates should between 1 Oct to 7 Oct.
2)Endorsements are not allowed.
3)Special offers are applied to all passengers.

All Xiamen Airlines terms & conditions apply. Fares & rules as per GDS always takes precedence.
Visit Xiamen Airlines for more details and to book your seats now!