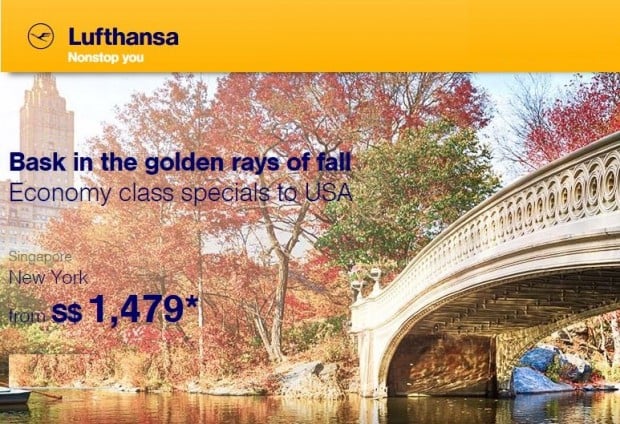 Special offers to USA
:
Bask in the Golden Rays of Fall

Home to star studded Hollywood and Yellowstone, the world's first national park, America provides a myriad of choices for an extraordinary experience. Play big and live it up along the Las Vegas Strip and catch the magnificent Bellagio fountain. Don't miss the excitement of Times Square and the beauty of Central Park in the cultural melting pot of New York City.

Purchase by: 31.08.2016 | Departure period: 01.10.2016-31.07.2017 | Return period: 07.10.2016-31.08.2017

Destinations
Fare from*
New York / Boston / Tampa
Los Angeles / San Francisco / San Jose, US
SGD 1,479
* Round-trip fares include all taxes, fees and surcharges.

Terms and Conditions:

Fare may vary depending on availability and currency exchange rate fluctuation. Return fare including taxes, fees and surcharges. Other terms and conditions may apply. Visit Lufthansa for more details and to book your seats now!