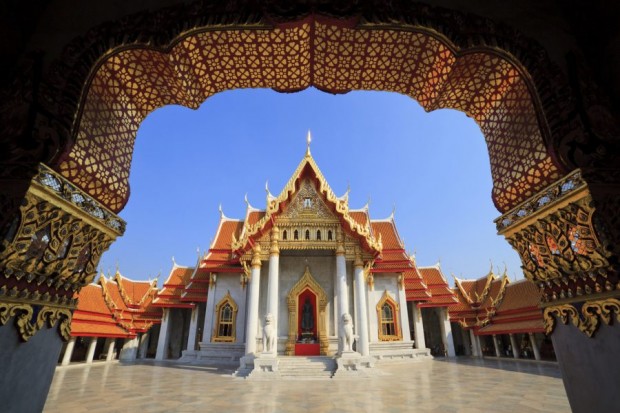 Don't miss our special offers to Bangkok from SGD208 all-in
The Temple of the Emerald Buddha is the most important Buddhist temple in Thailand. Located within the Grand Palace in Bangkok, it houses a Buddha figurine carved from a block of jade. For three times a year during the summer, winter and rainy seasons, the King of Thailand changes the costume of the Buddha image - an important ritual believed to bring good fortune and prosperity to the locals.
Keen to visit the temple or explore more of Bangkok? Book now with your UOB cards - offer ends 20 Sep 2016.
We have more than 40 cities to uncover! Check out our special fares to other destinations here.
Destination
Travel Period
Fare from
Bangkok

01 Sep 16 - 18 Nov 16

28 Dec 16 - 31 Dec 16

SGD 208
Terms and Conditions:
1. The above fares are on Economy Class, on per person basis and includes all applicable taxes/surcharges. Taxes and surcharges are correct as of 1 Sep 2016 but are subjected to change due to currency fluctuation. The taxes are final at the point of ticketing. Tickets must be paid using Singapore-issued UOB Credit/Debit Card.
2. Sales period: 1 - 20 Sep 2016
3. Travel period: Departure from Singapore between 1 Sep 2016 – 31 Dec 2016.
4. Advance purchase: Reservations and ticketing for all sectors are required at least 3 days before departure from Singapore for Q class (on Europe sectors) and O class (on all other destinations).
5. High season: High season fares apply for travel departing Singapore between 19 Nov - 27 Dec 2016.
6. Rebooking fee:
- O booking class: Ticket is valid on flight and date shown. No rebooking is permitted.
- Other booking class: Fee of SGD150 per passenger applies for any flight or date change within ticket validity. Flight restrictions/advance purchase must be observed.
7. No-show fee:
- O booking class: Not applicable. Ticket is considered forfeited once there is a no-show.
- Other booking class: SGD150 per passenger applies for passengers who fail to make prior cancellation of their confirmed flights.
8. FFP mileage:
- O booking class: Not eligible for mileage.
- Other booking class: Eligible for 25% of mileage.
9. Refund:
- O booking class: Tickets once issued are non-refundable.
- Other booking class: Refundable subject to SGD300 refund admin fee for fully unutilised tickets.
Non-refundable for partially unutilised tickets.
10. Child fare / Infant with seat: 80% of adult fare applies.
11. Infant fare: 30% of adult fare applies.
12. Offers are subject to reservation system seat/booking availability of Cathay Pacific Airways.
13. Advance seat reservation (preblocking of seat) is not available. You may select your seats during online check-in 48 hrs prior each respective flight departure.
14. Tickets are non-transferable and name change is totally not permitted.
15. Other fees and surcharges applies e.g. name amendment, etc.
16. Other Terms and Conditions apply.
Visit Cathay Pacific for more details and to book your seats now!