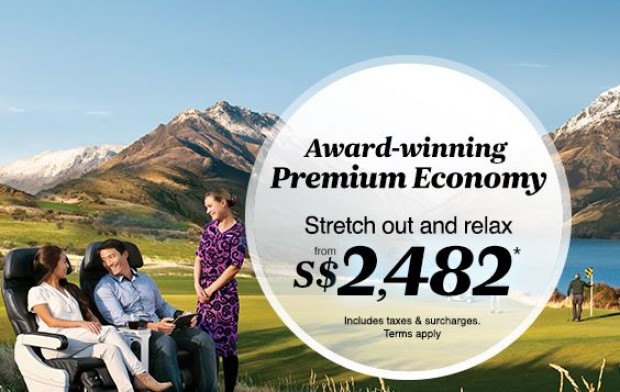 Flights to Auckland, Christchurch and Queenstown in Premium Economy
Experience the great outdoors of New Zealand with a taste of luxury onboard, round-trip Premium Economy from $2,482 per adult when you book at least 45 days in advance.

All prices are quoted in SGD. *Singapore to New Zealand round-trip fare includes a tax and fuel surcharge of SGD400. Tax is subject to currency exchange fluctuation. Final tax amount will be calculated upon confirmation of booking. The above fare is valid for round-trip travel on Air New Zealand Economy from Singapore to Auckland, New Zealand. Seats are limited for the above fare and offered on a first-come, first-served basis. Passenger must book online at airnewzealand.com.sg on SIN-AKL-SIN: booking class K/G. Cancellations and changes are NOT allowed. Service fees apply. Additional payment may also be required if original fare not available or applicable. Tickets are not transferable to another person. Air New Zealand reserves the right to change the above conditions and any routing exclusion without prior notice. Other restrictions may apply.
**Please note that our Premium Economy is only available for flights from Singapore to Auckland (NZ281) and Auckland to Singapore (NZ282). All connecting domestic flights within New Zealand are in Economy only.
Checkout Air New Zealand to know more of Premium Economy flights and to book your seats now!