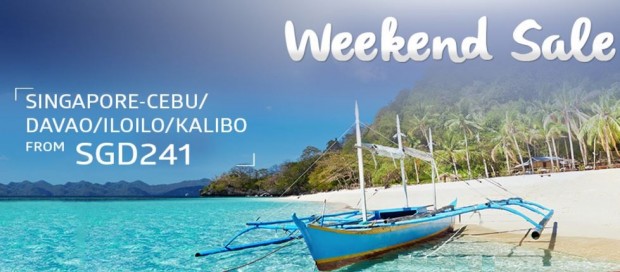 Discover the beauty of the Philippines with PAL's Weekend Sale
Book from September 10 – 11, 2016
Travel Period : September 12 - 30, 2016
ROUTE
ALL-IN ECONOMY ROUNDTRIP FARE
Singapore - Cebu/Davao/Iloilo/Kalibo
SGD 241
FARE CONDITIONS:
Fare is equal to base fare + government ta xes & fees + terminal fee. Fares are subject to change due to currency conversion rate. Quoted fares are rounded off to the nearest whole number. Fares are valid for roundtrip travel. Change fee is SGD75 for Singapore or its equivalent in local currency for all other routes. No-Show fee is USD75. Ticket is non-transferable and non-refundable. Ticketing Service Fee is not applicable for web purchase. PAL will collect No-Show fee unless booking is cancelled 24 hours before departure date. Infant fare is 10% of adult fare. Child fare is 75% of adult fare. Mileage accrual applies. Other conditions apply based on existing fare basis of the ticket.

BAGGAGE ALLOWANCE:
Fare is inclusive of 7-kg handcarried baggage. Free baggage allowance is 30kg for Bangkok and Singapore.

SALES CHANNEL:
Promo is for Philippine Airlines website (philippineairlines.com). If customer is using a mobile device, MasterCard and VISA cards are accepted as form of payment. No Promo Code needed.

Checkout Philippine Airlines for more details and to book your seats now!