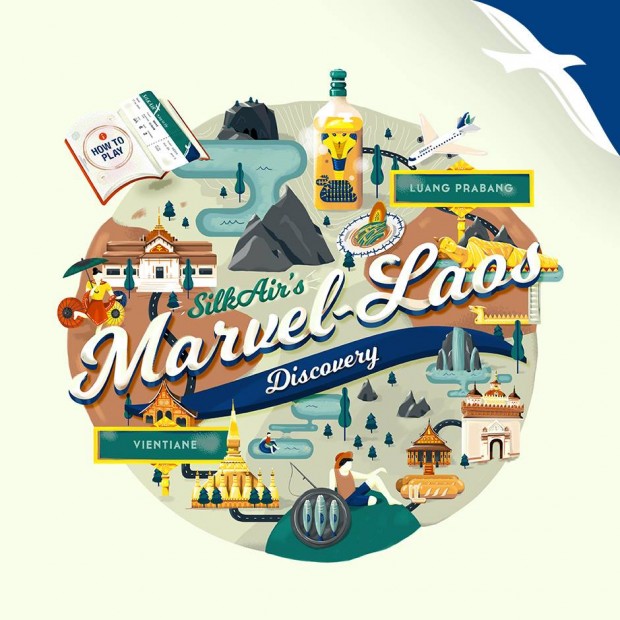 We're thrilled to announce our new destinations, Luang Prabang and Vientiane, Laos. To celebrate the good news, we're giving away 20 return Economy class tickets on our first flight out! Simply take part in "Marvel-Laos Discovery" on Instagram, and find the hidden ticket for a chance to win. Keep your eyes on the prize at: https://www.instagram.com/silkair.marvellaos.discovery/
Terms and Conditions of Prizes

1) One return Economy Class flight ticket (hereafter referred to as "the Prize") to either Vientiane or Luang Prabang will be awarded per winner. Only one preferred city is permitted per winner.

2) The Prize won must be accepted as awarded and are not transferable. The Prize cannot be exchanged for cash (partially or wholly) or other goods and services, and are subject to their respective terms and conditions.

3) Winner(s) are responsible for ensuring that all travel papers required for travel to the destination are in good order, are valid prior to, and for the entire duration of the prize(s) period.

4) The Organiser retains the right, in its sole discretion, to make substitutions of equivalent kind or in approximate value in the event of the unavailability of any prize or component of the prize for any reason whatsoever.

5) Each winner will be awarded the prize of one return Economy Class flight ticket (hereafter referred to as "the Prize") to either Vientiane or Luang Prabang. All winners must fly from Singapore between 31 October 2016 to 30 November 2016.

6) Prizes do not include travel and accommodation. Winners will have to make their own travel, logistics and accommodation arrangements and are solely responsible for all expenses related to the prize.

7) All tickets are on Economy Class and are for flights originating out of Singapore, inclusive of fuel surcharges. Airport taxes and other surcharges are excluded from the prize. Tickets issued will be non-extendable, non-transferable, non-re routable, non-refundable, non-upgradable and will be subject to seat availability on the flight. Air tickets are non-FFP mileage accruable. Travel under this agreement does not include excess baggage charges, and any other expenses. Winner(s) will pay for any expenses incurred for visa fees, airport taxes and other charges. If there is excess baggage, excess baggage waiver will not be granted. Once the tickets are issued, requests for any change will incur the standard re-issuance fees. Other terms and conditions apply.

8) The Winner must travel between 31 October 2016 and 30 November 2016 and no extension will be allowed; any unutilised value or ticket shall be deemed null and void. Travel must be completed by the Winner.

9) The Organiser shall not be liable in any manner whatsoever for any claims, losses, damage, injury. Costs or expenses in connection with or arising out of this Contest, the redemption or use of the prizes.

10) All decisions made by the Organiser in respect of this Contest are final and no correspondence will be entertained.

11) In the event of any inconsistency between these terms and conditions and any advertising, promotional, publicity and other materials relating to or in connection with this Contest, these terms and conditions shall prevail.

12) The Winner must be available on the week of 3 October 2016 to receive the prize. If the Winner is not available, another Winner may be chosen.

Terms and Conditions of Participation

2) All entries must answer - under the comment section - to the questions posted within 1 of the 14 Instagram point-of-interest accounts as well as spot the hidden ticket.

3) All entries must be submitted by 25 September 2016, 2359hrs Singapore Time (SGT).

4) Each participant can only submit one entry.

5) Entries are assessed based on the correct answer and selected with a randomiser.

6) Contest is open to all SilkAir Facebook and Instagram Fans residing in Singapore.

7) Singapore citizens and PRs may apply.