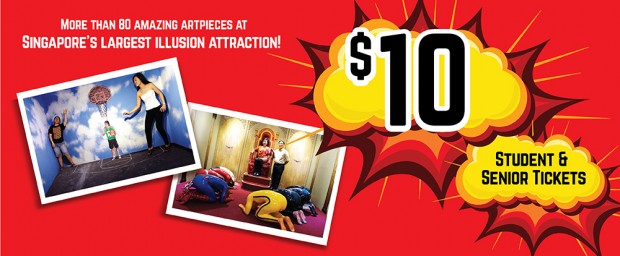 SPECIAL $10nett for STUDENTS AND SENIORS!
At a special price of just $10nett, now is the time to bring your friends and grandparents to visit the World's Best 4D Museum!
Come and be thrilled by the 4D visual effects of more than 80 art pieces comprising 3D Art, Digital Art and Object Art and then complete your experience with shopping and dining choices at Suntec City, one of Singapore's largest malls.

All students and senior citizens can now enjoy a fantastic time at Alive Museum, the largest 4D interactive museum in Singapore at an affordable price of just $10nett!

Why book online with us?
– Guaranteed best prices online!
– Quick and convenient – you just need to show the PDF e-tickets on your mobile phone for entry!
– You get to bypass the ticketing queue*!
– No need to wait for physical delivery of tickets or collect them at another location. You get your e-tickets in seconds!
– No need to worry about purchasing unauthorized tickets which you cannot use.* Separate queue for admission into the museum. This applies to all customers.
Terms and Conditions:

– Valid from 27 May 2016, for a limited period only.
– Valid for one Student Ticket per Student Photo ID Card.
– Valid for one Senior Ticket (60 years old and above) per Senior Photo ID Card (eg NRIC, Senior Concession Card, or Pioneer Generation Card).
– Purchase at Alive Museum ticketing counter: present ID at the point of purchase.
– Purchase at Alive Museum website: present ID at the point of entry.
– Other terms & conditions apply. Information is correct as of time of print (May 2016).

Checkout Alive Museum Singapore for more details and to know the latest happenings!