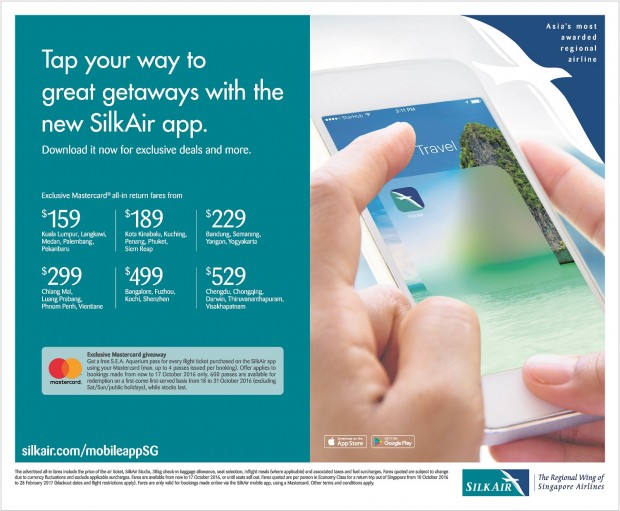 Book now on our mobile app and enjoy these exclusive offerings.

Exclusive mobile app airfare promotions | Flights to Malaysia
| | |
| --- | --- |
| Destinations | All-in return fares (SGD) from: |
| Kuala Lumpur | 161 |
| Langkawi | 161 |
| Kota Kinabalu | 189 |
| Kuching | 189 |
| Penang | 189 |
Exclusive mobile app airfare promotions | Flights to Thailand
| | |
| --- | --- |
| Destinations | All-in return fares (SGD) from: |
| Phuket | 189 |
| Chiang Mai | 299 |
| Koh Samui | 399 |
Exclusive mobile app airfare promotions | Flights to Cambodia
| | |
| --- | --- |
| Destinations | All-in return fares (SGD) from: |
| Siem Reap | 189 |
| Phnom Penh | 289 |
Exclusive mobile app airfare promotions | Flights to Myanmar
| | |
| --- | --- |
| Destinations | All-in return fares (SGD) from: |
| Yangon | 229 |
| Mandalay | 399 |
Exclusive mobile app airfare promotions | Flights to Laos
| | |
| --- | --- |
| Destinations | All-in return fares (SGD) from: |
| Luang Prabang | 299 |
| Vientiane | 299 |
Exclusive mobile app airfare promotions | Flights to China
| | |
| --- | --- |
| Destinations | All-in return fares (SGD) from: |
| Shenzhen | 489 |
| Fuzhou | 499 |
| Chongqing | 519 |
| Chengdu | 529 |
| Changsha | 569 |
| Wuhan | 589 |
Exclusive mobile app airfare promotions | Flights to Australia
| | |
| --- | --- |
| Destinations | All-in return fares (SGD) from: |
| Darwin | 529 |
Exclusive mobile app airfare promotions | Flights to India
| | |
| --- | --- |
| Destinations | All-in return fares (SGD) from: |
| Chennai | 435 |
| Kolkata | 465 |
| Hyderabad | 470 |
| Kochi | 489 |
| Bangalore | 495 |
| Thiruvananthapuram | 529 |
| Visakhapatnam | 539 |
| Coimbatore | 579 |
Exclusive mobile app airfare promotions | Flights to Indonesia
| | |
| --- | --- |
| Destinations | All-in return fares (SGD) from: |
| Medan | 159 |
| Palembang | 159 |
| Pekanbaru | 159 |
| Surabaya | 199 |
| Bandung | 229 |
| Semarang | 229 |
| Yogyakarta | 229 |
| Denpasar | 269 |
| Makassar | 279 |
| Lombok | 329 |
| Balikpapan | 379 |
| Manado | 389 |
Exclusive mobile app airfare promotions | Flights to Nepal
| | |
| --- | --- |
| Destinations | All-in return fares (SGD) from: |
| Kathmandu | 699 |
Exclusive mobile app airfare promotions | Flights to Vietnam
| | |
| --- | --- |
| Destinations | All-in return fares (SGD) from: |
| Hanoi | 259 |
| Da Nang | 349 |
Travel Notes:
Only available for bookings through the SilkAir Mobile App using Mastercard.
Sales period: 3 October to 17 October 2016, Travel period: 10 October 2016 to 28 February 2017.
For full terms and conditions, please refer to the Mobile App.
But wait there's more!
Get a free S.E.A Aquarium pass for every flight ticket purchase on the SilkAir app using your Mastercard (max. up to 4 passes issued per booking). Offer applies to bookings made from now to 17 October 2016 only. 600 passes are available for redemption* on a first-come-first-served basis from 18 to 31 October 2016 (excluding Sat/Sun/public holidays), while stocks last.
Redemption venue: 101 Thomnson Road United Square #10-03 Singapore 307591
Operating hours: 8:30am to 5:30pm, Monday to Friday only
*Please bring along your e-ticket for verification.
Visit SilkAir for more details about this offers!