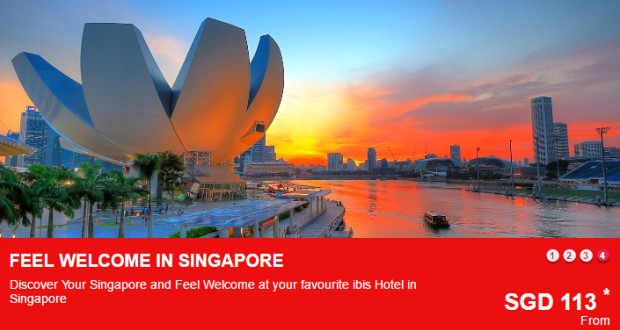 BOOK THIS OFFER FROM 01 SEPTEMBER 2016 TO 28 FEBRUARY 2017
FOR STAYS FROM 01 SEPTEMBER 2016 UNTIL 30 APRIL 2017
Each and every day, we host the world. We care for millions of people. We are moved by curiosity. We love blending cultures. We lead the way and we want to go further, with audacity, with imagination, with passion. We want you to Feel Welcome.

Feel Welcome encapsulates the generosity and the very essence of hospitality. It is a promise to our guests, so you feel expected, unique and privileged.

Singapore is one vibrant city full of surprises that promise a great holiday experience. Whether you are hooked on Singapore's rich history, eager to experience exquisite local fare, keen on a wild shopping spree, or simply unwind and savor the island life, we want you to Feel Welcome in Singapore.

Discover Your Singapore and Feel Welcome at ibis hotels in Singapore.

Discover Your Singapore package includes:
- room of choice
- buffet breakfast
- unlimited wifi
​
Accor Plus members get additional 15% off.
If using the Accor Plus complimentary night voucher, all benefits of the Discover Your Singapore offer will be void

Other hotel terms & conditions apply. Please check hotel terms & conditions at time of booking.
Checkout Ibis for full conditions of sale and to book your accommodation now!