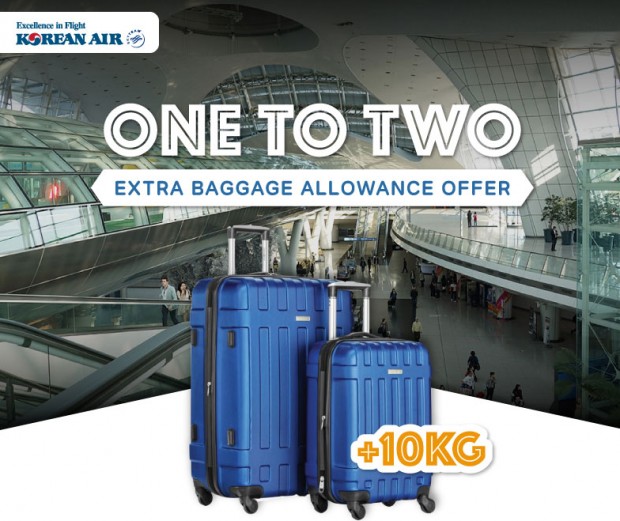 Travelling back after a wonderful shopping trip to Seoul?

Now you can enjoy extra 1 piece/10kg free baggage allowance for your return flight from Seoul to Southeast Asia cities.
More space, less worry.

Return Date : 1 Oct 2016 to 6 Nov 2016

How to Enjoy this offer?
Request for your extra baggage allowance during baggage check-in at Seoul-Incheon International Airport.

Terms and Conditions:

1. This offer is only applicable to passengers who will be returning to Korean Air's Southeast Asia cities from Seoul.
2. Applicable Southeast Asia cities only include the following: Bangkok, Chiang Mai, Phuket, Jakarta, Manila, Cebu, Singapore, Ho Chi Minh City, Da Nang, Hanoi, Kuala Lumpur, Phnom Penh, Siem Reap and Yangon.
3. Outbound flight from Seoul to applicable Southeast Asia cities must be within 1 October 2016 - 6 November 2016.
4. Extra baggage allowance of 1 piece/10kg is only applicable for Economy Class passenger excluding infanct on Korean Air operated flights only.
5. Korean Air reserves the right to vary, delete or add to any these 'Terms and Conditions without any prior notice.
6. If this offer conflicts or is inconsistent with any laws, notification, announcement or policies of any regulatory authorities, Korean Air shall have this right to cancel this offer.
7. In case of any dispute regarding this offer, Korean Air decision shall be final and absolute. No discussion, enquiry, appeal or challenge by any passenger in respect of any decision by Korean Air in this respect shall be entertained.

Checkout Korean Air for more details about this offer and to book your seats now!