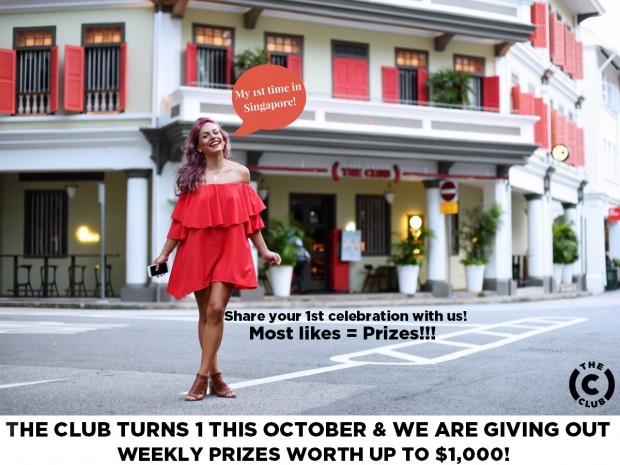 Share a photo of your first anniversary, first date, first day at work, your child's first birthday, your first celebration during 2016! All you have to do is:
Step 1 – Like our Facebook page
Step 2 – Post your picture on our page, with a short caption on why it means so much to you
Step 3 – Don't forget to tag yourself
Step 4 – Get your friends to "Like" your picture, as the most number of "Likes" determines WINNERS!
The contests will end on the Friday (12MN) of every week, and winners will be notified shortly after! Hurry, this could be your lucky week! T&Cs apply.

General Terms & Conditions
1. The management reserves all rights to terminate or modify the contest rules, cancel or make changes to the contest and prizes prior to the closing date. Any such modifications shall be notified via the Club Facebook page and website, and such modifications shall be immediately effective.
2. Entrants must be at least 18 years of age at the date of entry.
3. The Contest shall run in accordance with the stipulated timeframe as stated below:
· Week 1: 1st October – 7th October
· Week 2: 8th October – 14th October
· Week 3: 15th October – 21st October
· Week 4: 22nd October – 28th October
4. Contestants may only submit one entry for consideration and are prohibited from carrying over their submissions to the following weeks of the contest.
5. The Club shall not be responsible for technical errors in telecommunications networks, Internet access or otherwise preventing entry to the Contest.
6. The Club reserves the right to select an alternative winner at any time, if there are reasonable grounds for believing that the initially selected winner has contravened any of the above terms. Any alternative winner will be selected applying the same criteria as that used to select the original winner.
7. The Club reserves the right to reclaim any unredeemed prizes.
8. The Club reserves the right to delete or reject any posts that might be deemed inappropriate or offensive.
Visit The Club for more details about this contest and to start sending your entry now!