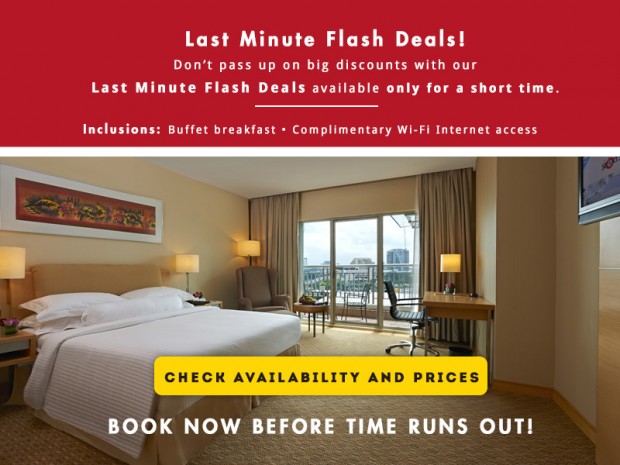 Choose any of these hotel packages in Petaling Jaya, Selangor, Malaysia that promise a truly satisfying holiday.
Stay Period: 26 October 2016 to 07 November 2016

This exclusive offer ends soon. So book direct now and enjoy 4-star accommodation, plus free buffet breakfast for 2.
Buffet Breakfast
Meal Description: International Buffet Breakfast for 2 person
Inclusions
Deluxe toiletries
Free WIFI Access
Complimentary Wifi Access
Reservation Policies:
*All times indicated in the policies are expressed in hotel's local time (GMT +08:00).
Arrival Time: 02:00 PM
Departure Time: 12:00 PM
Children Policy: Certain room types for this rate plan may or may not allow children.
Children 7 and below can stay in the hotel for free. Maximum number of children allowed to stay for free depends on the room type booked.
Prepayment: Only 8% prepayment is required to confirm your reservation. This is nonrefundable. The remaining balance shall be paid at the hotel.
Modification: We don't charge you a modification fee if you choose to modify before 2:00PM, October 26, 2016 GMT +08:00.
Cancellation: If you choose to cancel, you will be charged the cost of the first night.
No-show: Guests who do not arrive within 24 hours of the check-in date and time of the hotel will be charged the first night of the reservation.
Card Fraud Control: To protect credit card owners from fraud, the guest is required to present the actual credit card used in making the online booking and a valid government issued PHOTO ID of the card owner upon check-in. The hotel reserves the right to refuse the guest to check-in for failure to comply with this requirement. If the card owner is not the one staying at the hotel, the guest is required to present clear photocopies of the front and back of the credit card used, a valid government issued photo ID of the card owner along with an authorization letter stating that the credit card holder has allowed the guest to use his/her card for the reservation. The hotel may cancel a confirmed reservation if a booking is suspected to be made using a fraudulent credit card.
Checkout The Royale Bintang the Curve for more details about this offer and to book your seats now!