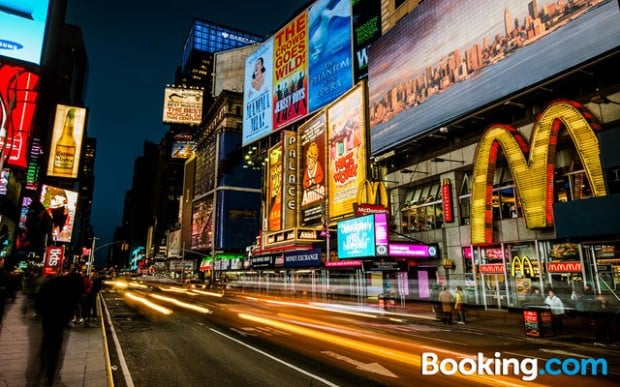 Treat yourself to the ultimate big city adventure with an exciting getaway to New York. Your MasterCard can make it easier than ever to visit to the Big Apple, with savings of 15% off more than 100 selected hotels when you book through Booking.com. Filled with world class museums, amazing shopping, and sizzling nightlife, this magical city has everything you need to feel energized and inspired.
So don't just dream about it. Check out the latest exhibition at the Guggenheim, or take in an opera at the Met. Indulge in a Fifth Avenue shopping spree, or hunt for stylish treasures in Soho. See the latest Broadway hit, then discuss it over cocktails at one the hottest downtown lounges. Whatever you do, you'll enjoy it even more knowing you're enjoying exclusive savings on your stay offered by Booking.com.
Overview
Save 15% off the standard rate at participating New York hotels when you book through Booking.com.
Policies are either non-refundable or flexible depending on the property.
Reservations are confirmed and not based on availability.
Must book and pay for stay with valid MasterCard.
Terms and Conditions:
MasterCard Priceless Cities visitors can use this Link to get 15% off the price (Standard Room Rate) of a booking at a participating Booking.com property in NY. You make the reservation on the Cobranded Priceless Cities/ Booking.com site, and pay for your stay upon arrival at the accommodation. The discount doesn't apply to any taxes, fees or additional costs, and you'll need to pay the full price for any other rooms that are not part of the Priceless Cities/ Booking.com program. Go to www.booking.com to see all available properties + cities on Booking.com.
Specifics of the discount program:
15% off the Standard Rate with participating properties, limited to NY.
The discount does not include any taxes, service fees, restaurant, room service, parking and other charges.
The 15% off only applies for users who make their reservation with their MasterCard card.
Policies are either non-refundable or flexible – this depends on the accommodation policies and can be found when making the actual booking on the site.
Book and Stay dates are from now till 11:59pm MT on December 31, 2016.
Bookings are subject to availability and the property's policies.
Participating properties are subject to change at any time.
Booking.com reserves the right to change or withdraw this offer at any time and to cancel any bookings made to make any speculative, false or fraudulent bookings or any bookings in anticipation of demand. Usual booking terms and conditions apply (follow this link) and all bookings are subject to availability. Booking.com is the promoter of this offer.
Checkout MasterCard for more details and to see all offers exclusive for cardholders.