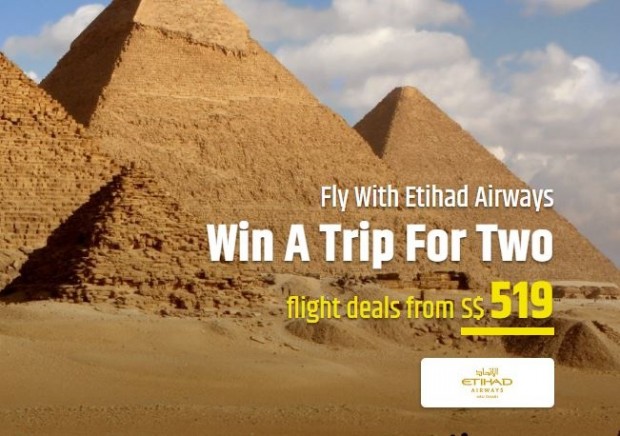 Book your next travel experience with Etihad and win*!
As we enter 2017 in a couple of months, we've lined up a bucket of deals from Etihad Airways - which has been awarded the Skytrax Certified 5-Star Airline Rating recently.
Enter the land of mystery - the ancient Egypt - to discover the rich history of mankind; explore the great Pyramid of Giza or enjoy a boat trip on the Nile.
If that's too exotic, take a pick from over 20 destinations here before 30 Nov 2016 and stand a chance to win a FREE pair of tickets when you fly with Etihad Airways. Don't chance a delay!
Travel Validity: 31 Oct 2016 - 30 Jun 2017

* The small print
When you book any Etihad Airways flights on CheapTickets.sg, from 31 October 2016 through 30 November 2016, you will be automatically entered in the lucky draw.
On 18 December 2016 one succesful booker will be randomly selected as winner.
The following terms and conditions apply to the prize.
Fares are quoted in SGD dollars for one customer (adult). Round-trip.
Sample fares for travel from 31 Oct 2016 to 30 Jun 2017.
Offers are subject to availability at the time of booking online with Etihad Airways, these are special fares with limited availability.
Fares are inclusive of applicable taxes and fuel surcharges, the break down will be shown during the online booking process. Fares are correct at the time of publication; however, the levels may vary based on fluctuations in the tax amount.
Valid visas and travel documents are the responsibility of our Guests.
Please check the individual fare rules for detailed terms and conditions.
Flight/Day restriction and Blackout periods will apply.
The Airport taxes are subject to change without prior notice and will be confirmed at the time of booking.
Outbound/Inbound Blackout restrictions may apply.
Weekend surcharges may apply.
Checkout CheapTickets.sg for more details about this offer and to book your seats now!