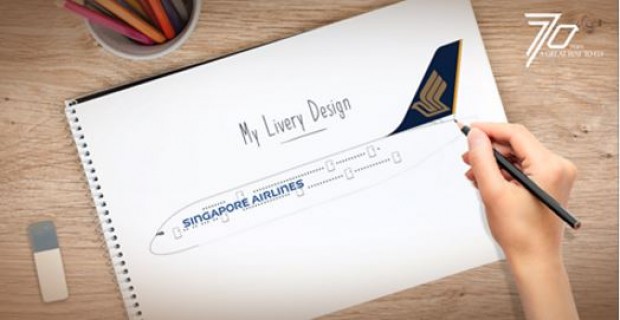 Singapore Airlines 70th Anniversary Airbus A380 Aircraft Model Livery Design Contest

To celebrate Singapore Airlines' 70th Anniversary in 2017, KrisShop is pleased to commission an Airbus A380 aircraft model livery design contest! We invite all budding artists and aircraft enthusiasts alike to send us your designs and tell us the concept behind it. The winner will walk away with a pair of Economy Class tickets to an SIA destination of his/ her choice & S$200 KrisShop e-voucher. The winning design selected by our panel of judges will also be re-produced into a 1:200 scale aircraft model for sale on KrisShop in 2017.

All participants must submit their entries by 30 November 2016, Singapore local time (GMT +8).

Click here for more details, to register and to submit your entry now!

Terms and Conditions:
Organising Committee and Theme

The "Contest" - Design the SINGAPORE AIRINES 70TH ANNIVERSARY AIRBUS A380 AIRCRAFT MODEL LIVERY DESIGN CONTEST is organised by Singapore Airlines KrisShop ("SIAK").
Participants are required to design the aircraft livery that may be considered for production and sale on Singapore Airlines KrisShop in conjunction with the event.

Eligibility of Entries

This competition is open to all members of the public.
There is no limit on the number of entries that may be submitted by any one participant.

Submissions

All participants must submit the design entry using the template provided (Annex A) with their personal particulars via www.KrisShop.com/sq70liverycontest. For more information, visit the official www.KrisShop.com/sq70liverycontest.
All participants must submit their entries by 30 November 2016, Singapore local time (GMT +8).
Entries that are late, illegible, incomplete, sent to the wrong address or incompletely received will not be eligible.
The design must not bear any third party brand name or logo, except for Singapore Airlines (SIA) branding and the Singapore Airlines 70th Anniversary logo.

Criteria for Judging

Entries will be judged on the following:
• Originality and Creativity: 50%
• Relevance to 70th anniversary commemoration and SIA branding: 50%

Judging Process & Prizes

By entering the competition and submitting the relevant entry form and submission template to SIAK, participants agree to (a) abide by these terms and conditions, (b) submit to the decisions of the judges as well as (c) any other requirements as determined by SIAK from time to time and
The submitted entries will be judged and ranked by a panel of judges comprising representatives from both the Singapore Airlines and its inflight sales concessionaire DFASS (Singapore) Pte Ltd. They will select one best entry, which will be re-produced into a 1:200 aircraft model for sale on KrisShop during the Airline's 70th Anniversary celebration.
The winner will receive a pair of Singapore Airlines Economy class air tickets to any SIA destination (T&Cs apply) and a S$200 KrisShop e-Voucher.
The decisions of the judges are final, and they shall not be obliged at any time to enter into any discussions, correspondence on any matter relating to the competition.

Intellectual Property Rights

All entries must be original and must not have been entered in any other competition. Participants represent and warrant that their submissions are original and do not violate the copyright of third parties.
Participants further consent to the use of their names, entries, photography or likeness for advertising by SIAK and other related publicity without compensation.
All submitted entries will become the property of SIAK. Participants are advised to make and retain copies of their own designs for their record and use. By entering into the Contest, a participant irrevocably assigns the copyright of his or her submitted entry to SIAK. SIAK shall have amongst other things, without limitation, the right to reproduce without compensation all or portions and edited versions of the design on an unlimited, worldwide basis in its publications, publicity and other marketing materials, in any form. SIAK, when appropriate, will cite the names of the author if, in its opinion, significant portions of an entry are used. SIAK will also change or conceal names and/or other information in any published entry or part thereof to maintain confidentiality where necessary or required.
SIAK reserves the right at all times to make amendments, additions to, deletions or otherwise make any changes to the entry, the Terms & Conditions herein or any part of the competition and its related events, with or without notice, including, but not limited to, changes to the prizes to be won. SIA further reserves the right to suspend, discontinue or terminate the competition at any time, at its absolute discretion, without prior notice and without any liability whatsoever.
Notwithstanding anything herein, in no event will SIAK be liable to anyone for any illegal participation in the competition by any persons and with the submission of an entry, it is deemed that participants have agreed to indemnify and keep SIAK fully indemnified against any loss or damage incurred, and/or claims or proceedings brought against SIAK for unlawful or illegal participation in the competition.

Announcement of Results

Winners will be notified by email or telephone call.
The winners in the competition will be notified by 31 January 2017.
SIAK reserves the right to adapt and modify the winning design for reproduction and sale via SIA KrisShop on-board SIA flights, the online portal www.KrisShop.com, alongside other merchandise.

Prize

The prize is subject to the following terms and conditions (as applicable):
(i) Both winner and companion must be above 18 years of age.
(ii) No refunds or exchanges will be offered for any prize received or redeemed via the promotion .
(iii) No prize or any component thereof may be exchanged for cash or any other item.
(iv) SIAK reserves the right to vary these terms and conditions governing the prize at any time without prior notice.
(v) Any prize may be cancelled by SIAK at any time.
(vi) Such other terms and conditions as may be imposed by SIAK.
(vii) The winner will notify SIAK of the travel dates and flights, and the return flight has to be within 3 months from the originating flight date, subject to availability.
(viii) Each air ticket is not interlineable, refundable, upgradable, transferable or re-routable.
(ix) Air ticket shall not be eligible for mileage accrual and is not to be used with redemption of KrisFlyer miles or any other frequent flyer miles for any upgrade awards.
(x) Travel shall be valid on Singapore Airlines' services only and both passengers must travel together on the entire itinerary.
By accepting the prize, the prize winner agrees to participate in all reasonable media publicity relating to the prize prior to and after the prize has been collected. This includes being featured in social media content and promotions as required by SIA.
By accepting the prize, the prize winner shall not take any action in any manner that might reasonably be anticipated to adversely affect SIA's reputation, financial condition, business prospects or agreements or arrangements with any other person or entity.
In the event that for any reason whatsoever, the prize winner does not claim the prize at the time stipulated by SIA, the prize may be forfeited at SIA's sole discretion. Cash will not be awarded in lieu of the prize.
The prize is non-negotiable, non-transferable and non-refundable, either in part or in full. The prize may not be sold or bartered. No Frequent Flyer points will be given as part of this prize.
Unless otherwise specified, SIA is not responsible for and will not bear any of the expenses including but not limited to spending money, meals, drinks, transfers (including travel costs to and from the point of departure), travel insurance, freight, excess baggage, accommodation, laundry charges, activities, incidentals, government taxes, airport charges, gratuity, services charges and all ancillary costs.

Payment for taxes and airport charges must be made prior to ticket being issued and are payable by cash or credit card only.
Passports and visas are the responsibility of the winner.

It is the sole responsibility of the winner to arrange and pay for all government, federal, state and local taxes (such as gaming tax) and duties levied in connection with the prize, together with any fees imposed by any relevant governments and authorities and other expenses of a personal nature.
The winner and his/her companions will not be reimbursed for any time they may have to take off work or other commitments in order to utilize the prize.
SIA shall not be liable for any claims, losses, damages, injuries, costs and expenses suffered, sustained or incurred (including, but not limited to, indirect, consequential loss including death) or costs incurred due to unforeseen circumstances as a result of, or arising out of, or in any way connected with this promotion. In this regard, SIA recommends that the prize winner obtain the appropriate insurance.
If SIA is prevented from continuing with the promotion or the integrity and/or feasibility of the promotion is undermined by any event beyond the control of SIA, including, but not limited to, fire, flood, epidemic, earthquake, explosion, labor dispute or strike, act of God or public enemy, satellite or equipment failure, riot or civil disturbance, war (declared or undeclared), terrorist threat or activity, or any federal, state or local government law, order, or regulation, order of any court or jurisdiction, infection by computer virus, unauthorized intervention, breakdown in equipment, technical failures or other cause not reasonably within the control of SIA, SIA shall have the right, in its sole and absolute discretion, to abbreviate, modify, suspend, cancel or terminate the promotion without any further obligation.
SIA, its directors, officers, employees and assignees, will not be held liable for any claim arising from the prize.
A person who is not a party to this Agreement has no right to enforce or enjoy the benefit of this Agreement.
The laws of Singapore will apply to these Terms and Conditions. In case of a dispute, the courts of Singapore will have non-exclusive jurisdiction.