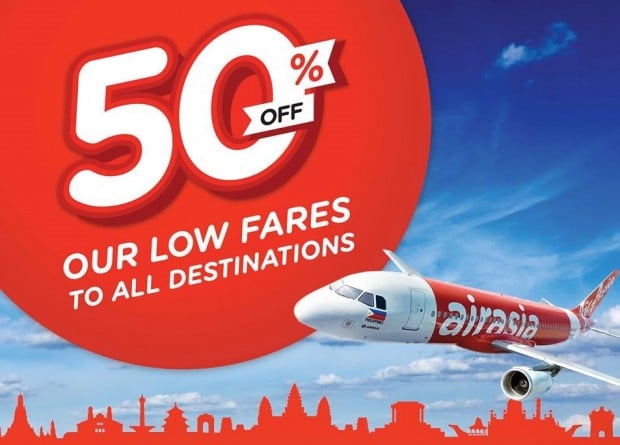 Enjoy Up to 50% off exclusively for Citibank Cardmembers!
Booking Period: 28 November 2016 - 4 December 2016 | Travel Period: 19 June 2017 - 16 November 2017

What's the promo all about?
It means you can enjoy up to 50% savings on base fares for selected flights across our network! It's that simple!
Simply follow these steps:
Pick your preferred flight departure and arrival
Select the dates stated in the promotion travel period
Choose your preferred flight time
Pay for your flight using a Citi Credit Card and get 50% off!
So what are you waiting for? Book your flights via the link below and start travelling now for less!

Don't have a Citi Credit Card just yet?
Apply now and get S$30 rebate when you spend with AirAsia!
Subjected to Approval Spend Rebate Terms and Conditions.

Special Conditions Applicable to Citibank Regional Online Usage Campaign:
Citi Cardmembers have to book flights from 28 November 2016 until 4 December 2016 to enjoy up to 50% off base fares for selected routes.
These fares are available only for bookings of seats made with valid Citi Credit Cards issued in Malaysia, Singapore, and Vietnam.
The number of seats available for bookings on each flight is limited and bookings are accepted subject to availability.
These fares include taxes, fees, and charges which shall be paid by using the same Citi Credit Cards at the time of booking.
No name change is allowed for the bookings under any circumstances.
AirAsia reserves the right to impose and/or charge any conditions applicable to these fares without prior notice to any persons.
These fares are not applicable to any other ongoing AirAsia promotions.
Our seats may not be available on all flights during public holidays, school breaks and weekends.
Other terms and Conditions apply on www.airasia.com.
Approval Spend Rebate Terms and Conditions and Compulsory Criteria:
The Approval Spend Rebate value will be worth S$30 each.
Approval Spend Rebate will be credited when customer meet spend condition in the first 3 months of card approval.
All AirAsia spend rebate are non-refundable and non-exchangeable for cash.
Meeting the spend criteria is S$70 (or equivalent to each local currencies) on Partner Website (www.airasia.com) only.
Customers must not be upgrading his/her Citi Credit Card to another Citi Credit Card.
Have not closed off any of his/her Citi Credit Card within twelve (12) months prior to the Program Period.
Checkout AirAsia for more details about this offer and to book your seats now!