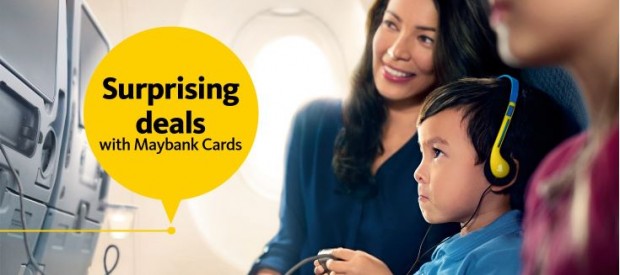 Enjoy S$50 cash rebate with your Maybank Card
Charge a minimum of S$1,500 to your Maybank Credit or Debit Card and receive S$50 cash rebate for air ticket purchases on Singapore Airlines. To be eligible to make a redemption, Principal Cardmembers must send an SMS in the required format to Maybank after they have charged the Minimum Spend to their Card(s) during the Promotion Period.
Redemption method:
Step 1: Charge a minimum of S$1,500 on your Maybank Card on Singapore Airlines ticket purchases
Step 2: Send an SMS in the following format to 79898, between 1 to 31 December 2016.
Keyword: MBSQ
<MBSQ><Name of Principal Cardmember><NRIC><Quantity>
E.g. MBSQ Jasmine Tan S1234567A 2
Limited to the first 1,000 eligible redemptions only, maximum of 2 redemptions per Cardmember
Terms and Conditions apply, find out more at maybank.sg/sq or checkout Singapore Airlines for more information.

Fares to Southeast Asia
Fares to China, Hong Kong and Taiwan
Fares to Japan and Korea
Fares to Australia
Fares to New Zealand
Fares to Europe
Fares to West Asia
Fares to America
Fares to South Africa