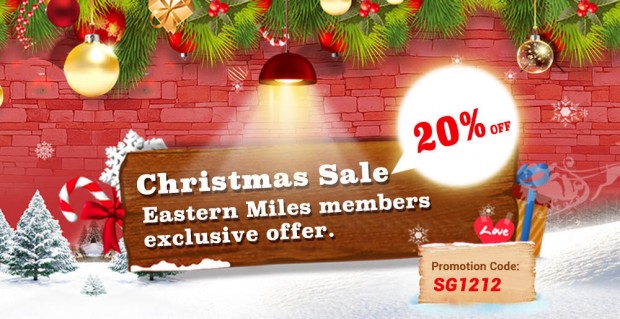 For Eastern Miles members only!

Effective 12 Dec to 31 Dec 2016, members who login into China Eastern Airlines' Singapore website: sg.ceair.com to purchase one way or round trip tickets, To/From any China Eastern Airlines' worldwide destinations except solely China domestic routes, will enjoy airfare discount up to 20%.

Members must enter promotion code [SG1212] to enjoy discount.

Sale Period: 12 December till 31 December 2016
Travel Period: 15 Feb 2017 – 31 May 2017

Applicable routes: To/From China Eastern Airlines' worldwide destinations, except pure China domestic routes.

Applicable classes & discount rate
Economy class: S/R/N/L/K/H/E/M/B/Y with 20% off
Business & First class: D/C/J/P/F with 20% off
Remark: All promotion tickets are non-endorsable, non-rerouteable and non-refundable; changes are not permitted once tickets are issued.

Terms and Conditions:
The promotion code 【SG1212】must be inserted when making a booking. If the code is not entered, you cannot retrospectively claim related airfare discounts after the completion of the payment;
Discount is applicable on ticket fare only, no discount on airport tax, fuel surcharge and other charges;
The promotion is applicable to the following booking classes: [S/R/N/L/K/H/E/M/B/Y/D/C/J/P/F], and the booking classes are subject to seats availability when making a booking.
The promotion is applicable on MU/FM operated flight only.
This promotion cannot be used in conjunction with other offer on the website.
Ticket rules and restrictions, please refer to website displayed after you enter the promotion code.
China Eastern Airlines reserves the right to amend, delete or add to any of these terms and conditions or withdraw, suspend or discontinue the promotion at any time without any notice or liability to any person.
Checkout China Eastern Airlines for more details about this offer and to book your seats now!