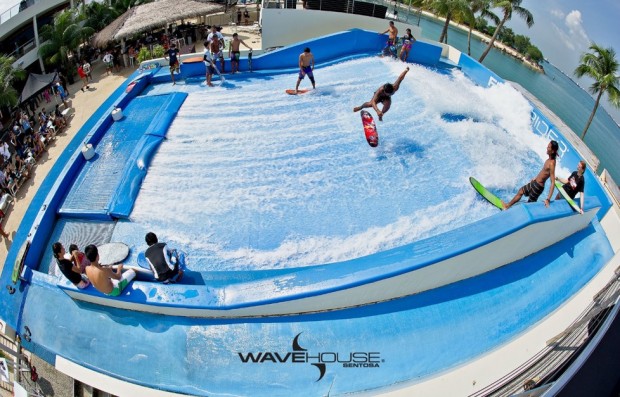 Enjoy 1-for-1 FlowRider in Wave House Sentosa

Validity : From now to 31 March 2017
How to Redeem : Visit Wave House Sentosa and pay with your American Express Card
Wave House Sentosa, is the place to experience the Californian beach lifestyle with high-adrenaline flow boarding on the world famous Double FlowRider and 10-foot FlowBarrel wave rides. Chill out to the best of awesome music as you savour modern Californian-Asian cuisine at the Wave House Sentosa Restaurant & Bar.
The Double FlowRider® is the first step to your exhilarating flowboarding experience. Endlessly fun to ride, this wave creates a safe, non-curling, endless sheet of water flowing at 32 km/h over a composite vinyl surface, much like a trampoline. Riders can carve up and down the surface and perform many tricks similar to other board sports.
The easiest way to enjoy the flow is on a body board that makes it a big hit for people of all ages. So whether you are looking to ride the flow like a pro or just to try something new and exciting, the Double FlowRider® is where it all starts.​
Enjoy 1-for-1 FlowRider4 at Wave House Sentosa from Mondays to Sundays when you pay with an eligible American Express® Card.

Terms and Conditions:
Offer is valid from now to 31 March 2017.
Offer is valid at Wave House Sentosa at 36 Siloso Beach Walk, Singapore 099007.
Offer is valid only when payment is made by The Centurion® Card, The American Express®Platinum Card, The American Express® Platinum Reserve Credit Card, The American Express®Platinum Credit Card, The American Express® Rewards Card and The American Express® True Cashback Card issued in Singapore.
Offer is valid for first-time riders only.
Participants must be at least 107cm tall to bodyboard and 133cm to ride standing up.
The use of this offer must be accompanied by photo identification of the participant, or the participant's parent if the participant is a minor (less than 18 years of age).
Preferred riding timeslots are subject to availability on a first-come, first-served basis.
As a condition to entry on the ride, the participant, or the participant's parent if the participant is a minor, must have signed the Release and Indemnity Agreement.
Participants must obey all safety signage, instructions and rules within the premises. The participant must obey the wave operators and instructors at all times.
Entry constitutes consent for Wave House Sentosa to use any film, video or likeness of bearer for any purpose whatsoever without payment to the participant.
The operating hours and the availability of the rides may change due to maintenance, capacity, weather and/or special events; and may otherwise change or be discontinued without prior notice and without liability.
Standard Wave House Sentosa rules of riding and other Terms and Conditions apply. For enquiries or bookings, please call 6238 1196.
Offer cannot be exchanged for cash or used in conjunction with other promotional programmes, offers, discount cards, vouchers or VIP privileges, unless otherwise stated.
American Express and/or Wave House Sentosa reserve the rights to terminate this Offer and/or replace the Offer with another offer of similar value without prior notice.
Merchant's Terms and Conditions apply. American Express acts solely as a payment provider and is not responsible or liable in the event that such services, activities or benefits are not provided or fulfilled by the merchant. Merchants are solely responsible for the fulfilment of Offer and all relevant privileges.
American Express and/or the management of Wave House Sentosa reserve the rights to amend the above Terms and Conditions without prior notice.
American Express does not assume liability and American Express Card Members shall not make any claim whatsoever for (i) injury or bodily harm or (ii) loss of damage to property, howsoever caused, arising from, or in connection with these benefits and privileges.
Programme benefits, participating merchants and Terms and Conditions may be amended or withdrawn without prior notice at the sole discretion of American Express International Inc
In the event of any dispute, the decision of American Express will be final and no correspondence may be entertained.
Checkout American Express Singapore for more details about this offer and to see all promos exclusive for cardholders.